Broken Link
From Seobility Wiki
Definition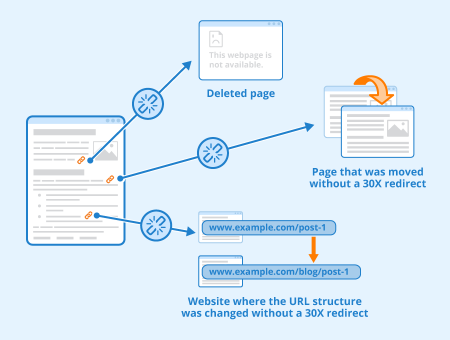 Broken links, also called dead links, are hyperlinks that point to a page that no longer exists. Usually, this is caused by a website owner moving the page without a 30X redirect, changing the URL structure of the website without the correct implementation of 30X redirects, or deleting the page entirely.
Broken links are considered to have a negative impact on a site's SEO performance and preventing them is, therefore, an important part of SEO.
Negative effects of broken links
Broken links can have a negative effect on both the website/page the link is on as well as the website/page the link is pointing to. Below are a few ways in which broken links can negatively impact a site.
For the site the link is on
Harms the user experience – By sending users to pages that don't exist, a poor user experience is created, as navigating to the non-existent page wastes a user's time.
Creates incomplete content – Links are used to provide supporting information, so when a link points to a non-existent page, there is a gap in the information the page originally provided via the link.
May show search engines that a site isn't maintained – Broken links may indicate to search engines that the site isn't being updated, potentially signaling that the site is outdated.
For the website the link is pointing to
Waste "link juice" – Backlinks pointing to non-existent pages on a website are considered wasted backlinks as they waste link juice flowing through the link.
Negatively impact user signals – By sending traffic to a page that doesn't exist, the overall user signals on a site worsen due to a high bounce rate and low dwell time.
Link rot
Link rot is a term closely related to broken links. Link rot is used to indicate the tendency of links to turn into broken links over time due to content moving and pages being deleted. Link rot is something that webmasters should actively manage in order to ensure the links on their site continue to point to relevant trustworthy pages/sites.
Broken link building
Broken link building is a form of link building that leverages broken links on other websites. By using a backlink analysis tool like Seobility's Backlink Analysis and Monitoring Tool, it's possible to search for broken links to competitors' sites.
When doing broken link building, a webmaster or SEO will reach out to the website owner and pitch a page on their own website as a potential substitute for the page the broken link pointed to. Broken link building is considered a white hat link building tactic, as it adds value to users.
Relevance to SEO
Monitoring for broken links is an important part of both on-page SEO and off-page SEO. Broken links can also be used for building links, allowing website owners to reach out to websites in a bid to replace the broken link with a link to relevant content on their site.
Broken links on a site can be fixed by replacing the link with a link to another relevant piece of high-quality content. Broken links pointing to a site can be fixed by contacting the website owner linking to the site and asking them to link to the page the content has moved to, or by redirecting the non-existent page to a similar page on the site using a 301 redirect.
Related links
Similar articles
To quote this article, just copy this link:
https://www.seobility.net/en/wiki/Broken_Link