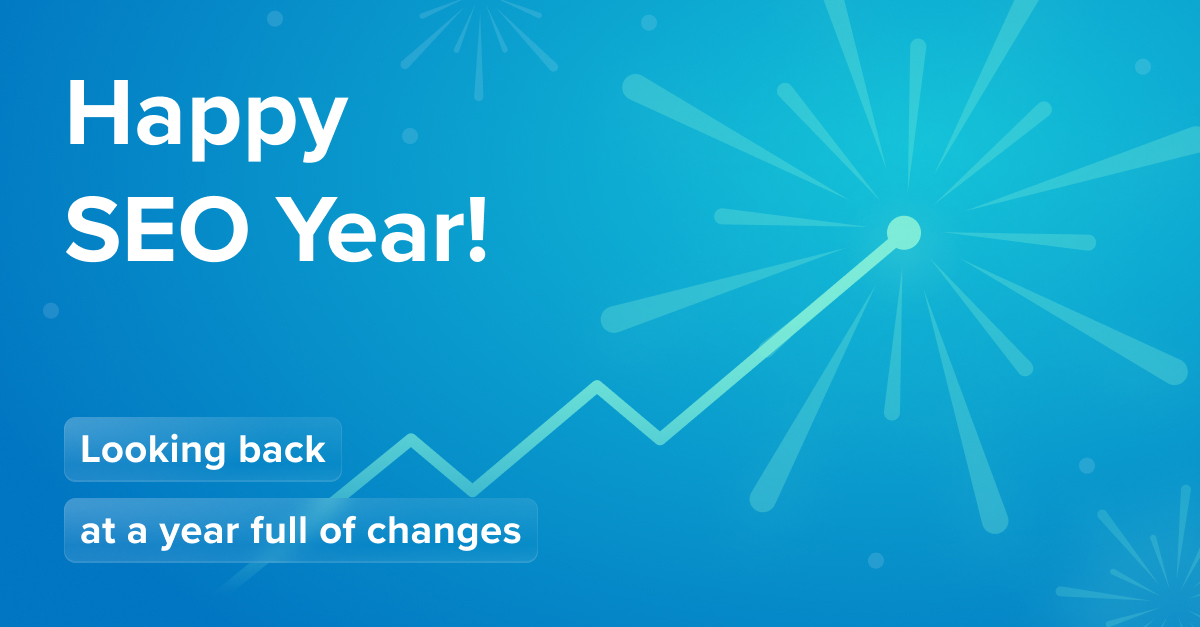 An exciting year is coming to an end tonight – do you also feel like time flew by in 2021?!
During the past 12 months, we've not only experienced a lot here at Seobility but there have also been numerous Google updates that kept SEOs all over the world on their toes.
In this article, we're going to look back at 2021 which has been a year full of changes for SEO and for us. So grab a cup of tea and lean back while we take you through
the most important Google updates that everyone in the SEO community has been talking about in 2021
new features and milestones we've reached with Seobility in 2021
how the Seobility team experienced this year
Get ready for a quick ride through topics like passage ranking, numerous Google (Core) updates, new Seobility features such as our Keyword Research Tool, the milestones we're proud of, and much more!
The SEO world in 2021
After a quiet start to 2021, Google released its first officially confirmed update of the year in February.
February: Passage Ranking
Google announced its Passage Ranking update in 2020 already and started the rollout for English search queries in the US in February.
This update allows Google to answer very specific search queries more granularly as its algorithm is now better at identifying relevant passages on specific subtopics that are buried in long-form content.
With our new technology, we'll be able to better identify and understand key passages on a web page. This will help us surface content that might otherwise not be seen as relevant when considering a page only as a whole….

— Google SearchLiaison (@searchliaison) October 20, 2020
Unfortunately, Google didn't say when the update will be rolling out to other countries and languages. According to Google's John Müller, this might not even be communicated at all.
But sooner or later the change will be rolling out to more countries. So, what does this mean for you?
If you provide very detailed content on your website, the update could have a positive impact on your organic traffic since it improves Google's ability to connect your content to long-tail search queries. You can learn more about how passage ranking works and what it means for SEOs and marketers in this blog post.
March: Zero-Click Searches
Shortly after that, Rand Fishkin from Spark Toro brought up the next big topic in the SEO community. He released a study showing that in 2020, two-thirds of searches were so-called "zero-click searches" that didn't result in a click on any of the websites listed in search results.
From Jan-Dec, 2020:
– @SimilarWeb analyzed 5.1 trillion searches
– Desktop & mobile (separate charts in the post)
– 100M+ worldwide clickstream panel

The results: https://t.co/08iLoXzdMh

– 2/3rds of searches end without a click
– Over 75% on mobile, just under 50% on desktop pic.twitter.com/C1GAJVRmzt

— Rand Fishkin (@randfish) March 22, 2021
There are various reasons why searches don't result in a click but one of the main contributing factors are Google's various search features such as definitions, Knowledge Panels, Featured Snippets, etc. These features provide a direct answer to users' search queries within the search results: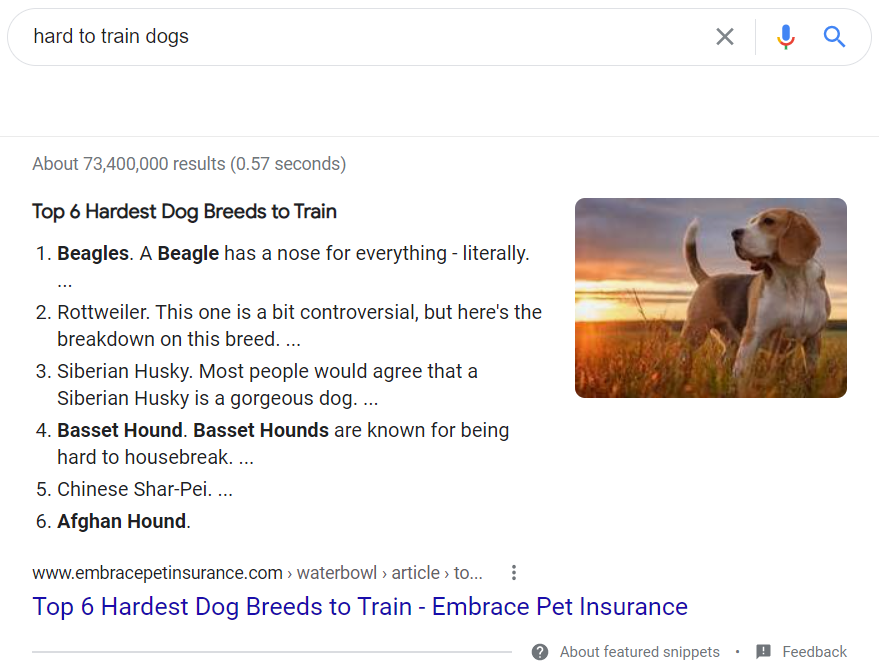 The study clearly demonstrated how important it is to consider these features when you do keyword research. After all, a keyword with a high search volume won't be of any value if it doesn't send any traffic to your site due to Google answering the user's question before you even get the chance to.
A summer of Google updates
After a few quiet months with regard to (officially confirmed) updates, Google dropped one update after another this summer! To be specific, there were six officially confirmed updates between June 2 and July 26:
the June 2021 Core Update
the Page Experience Update (which had already been announced the year before)
two Spam Updates
the July 2021 Core Update
the Link Spam Update
The Page Experience update was probably the most interesting one as the SEO community had been waiting for it since late 2020. In the course of this update, the Core Web Vitals – a set of metrics evaluating the user experience on a website – became an official ranking factor. So, in case you still haven't optimized your Core Web Vitals, now's the time! You can find a comprehensive guide on how to optimize your Core Web Vitals here.
For a refresh on the other five updates, check out our summary of Google's (Core) Updates in June and July.
August & September: Google Title Update
In August, some SEOs, including Brodie Clark, started to notice Google has been rewriting more page titles of search results than in the past. Google officially confirmed this update shortly after that and explained that the new system improves page titles whenever Google deems this necessary (e.g. in cases of keyword stuffing).
But unfortunately, Google's "improvements" didn't always yield good results…


Source
… which is the reason why this update was heavily criticized by many. Fortunately, Google heard the feedback of the SEO community and further improved the system for generating page titles in September!
As Google is now rewriting more page titles than in the past, you should definitely keep an eye on the titles of your most important pages. The Performance report in Google Search Console lets you monitor the average click-through rate for individual pages and for your overall website:

In case you notice significant drops, you can use Google search to check if this could be due to rewritten page titles. By comparing your title tag with the title Google displays, you will often recognize what urged Google to make the change, and you can improve your title tag accordingly. For more tips, we recommend you to read our summary of the Google Title Update.
What else happened in SEO in 2021?
Apart from the most important changes we covered above, Google released multiple more updates, such as the November 2021 Core Update, two Product Reviews Updates, and only recently a big local search update.
In addition to all these updates, Google introduced an exciting new technology called MUM in May. MUM is a new system that uses artificial intelligence in order to understand searches in a better way. According to Google, it is 1,000 times more powerful than BERT (!) and it can understand and connect information across different languages and formats (text, images, etc.).
As Google is getting better at understanding the exact search intent of its users and delivering tailored results, it is becoming critical for SEOs to include search intent analysis in keyword research, and to provide content that gives users exactly what they are looking for.
What's next for SEO in 2022?
Google granted us only a few breaks in terms of updates this year, and we can be sure that 2022 won't be different. Anyway, we're excited to see which new technologies and features Google will release in the future to further improve our search experience!
How did Seobility evolve in 2021?
Google was not the only one working hard on improving their software this year – we also released several new features and tools, including these highlights:
Besides these highlights, we have implemented countless smaller improvements and fixes for Seobility throughout the year, including performance improvements and changes to our link building tool, just to name a few. This way, we made sure that Seobility stays the reliable and high-quality SEO tool you know and love. 🙂
Milestones we celebrated in 2021
Throughout the year, your positive reviews and feedback have been the main motivation for us to further improve Seobility!
That's why it makes us extremely happy to be named "leader" in the SEO software category on G2's review platform.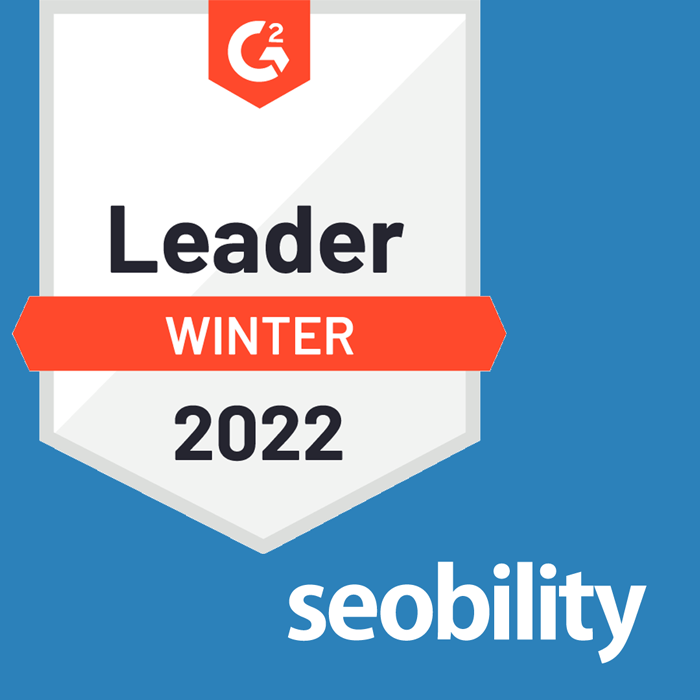 And we also feel very honored to be listed as a market leader in the SEO software category on the German review platform OMR Reviews!
That's why we're sending out a big thank you to all our customers – without you, this would not be possible!
And we also want to say thank you for all your kind messages and individual reviews that regularly brighten up our days:
"I just want to start by saying I'm a fan and a user of your software. We left to try some other platforms and ultimately came back to Seobility."
"I have to say that your On-Page analysis tool is the best that I came across so far!"
"Seobility was invaluable to me when I had a terrible website issue and had to completely rebuild my website and rankings. I went from being off of Google completely to having all of my top 10 keywords ranking within the top 2."
But of course, we won't sit back and relax now. We have big plans for making Seobility even more helpful and valuable for you in 2022, so stay tuned!
How we experienced 2021 as a team
2021 has been an extraordinary year for us as a team as well. Starting during the second Coronavirus wave, we were not able to kick off the year with a happy reunion after our Christmas break. Instead, we had to spend the first weeks and months in 2021 with remote work and video calls, working together from a distance.
Unsurprisingly, we all felt a big relief when we were finally able to return to the office in early summer and see each other face to face again, instead of talking to each other over our laptop screens. Especially, spending the lunch breaks together had been missed by all of us:
And we were also able to celebrate the milestones we had achieved together again: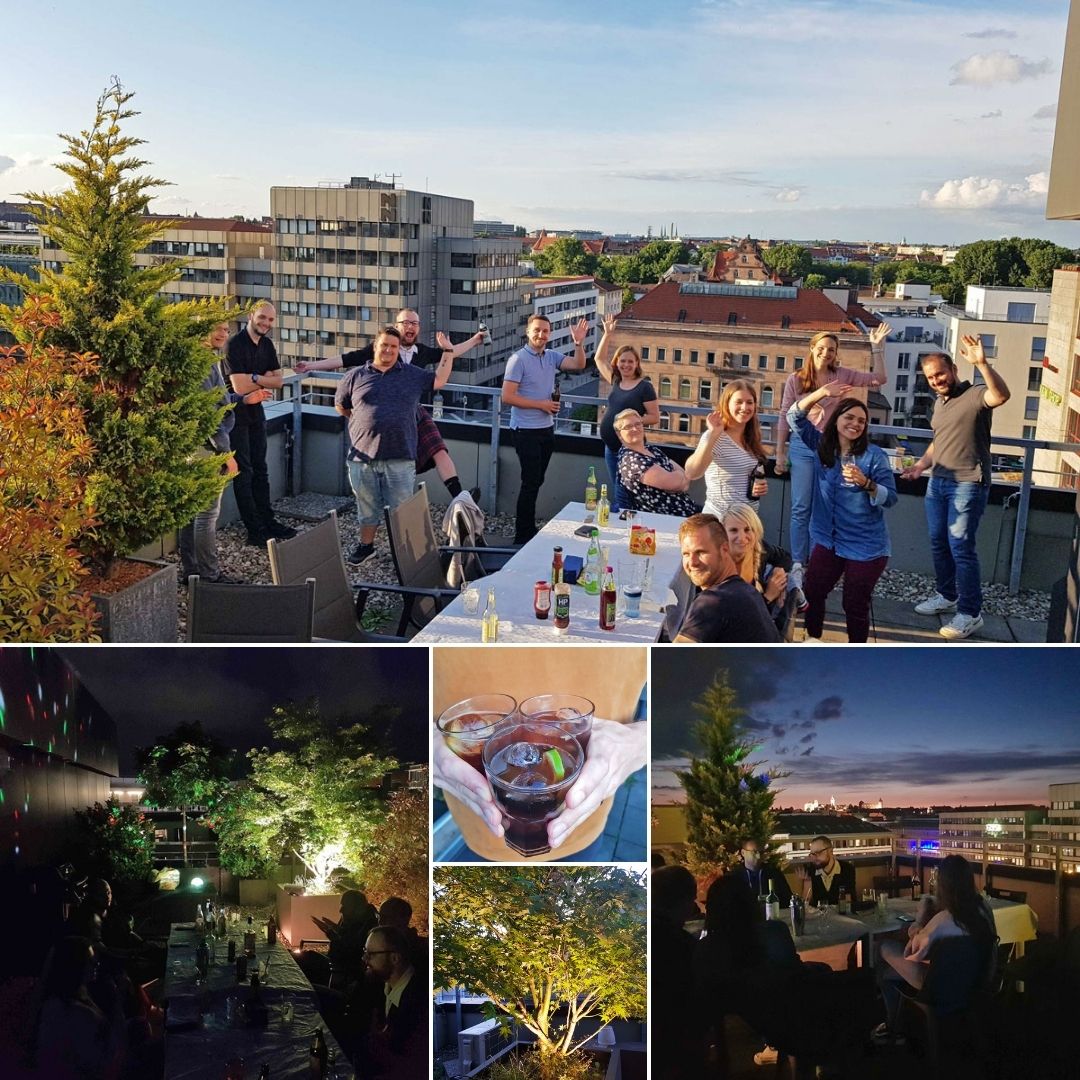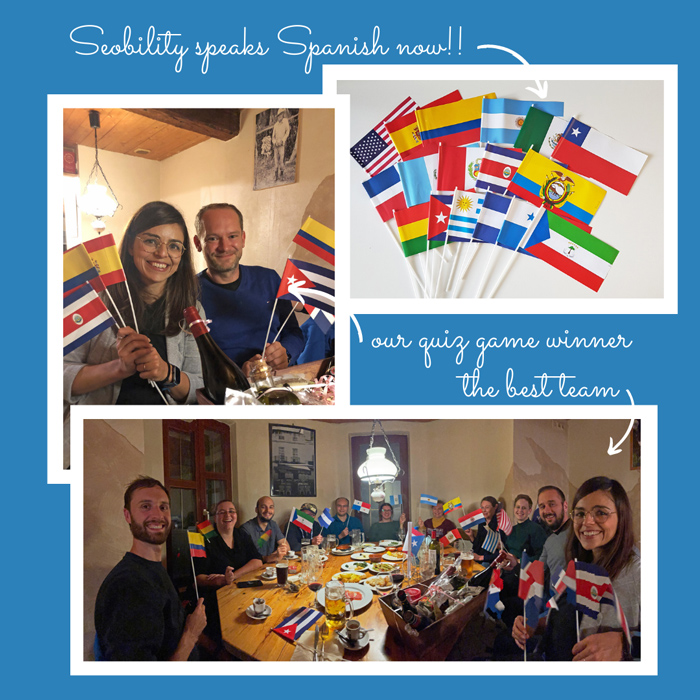 Even in-person SEO conferences were possible this year, thanks to thorough Covid safety concepts. So, we took the chance to attend the German conferences SEO Campixx in August and Online Expert Days in November:
Apart from these exciting events, we were also happy to welcome numerous new team members this year: Anna & Ylva (Customer Support), Melodía (Marketing), Alexander (Development), Melly (Team Assistant), and Theresa (Product Management).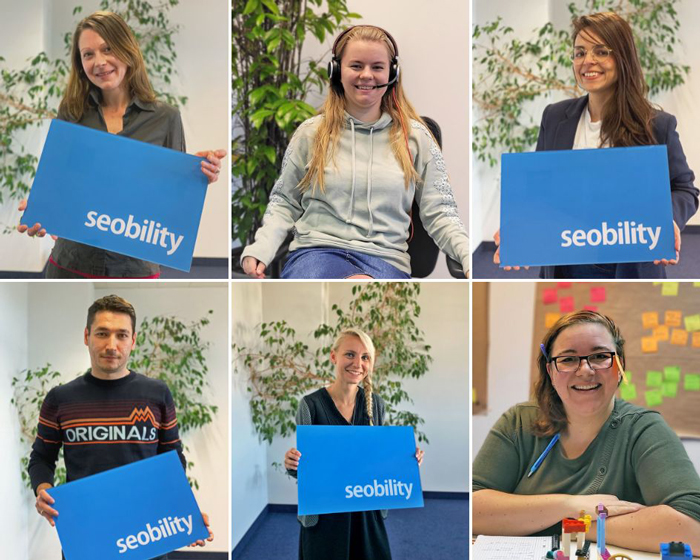 It's great to have you all on the team!
Goodbye 2021 – hello 2022!
Despite Covid, we had a lot of great moments in 2021 which we're really grateful for. And although the current situation is more difficult again, this leaves us with hope for next year. We're already looking forward to doing great things together and making Seobility more successful in 2022!
We're sending our wholehearted thanks to everyone who chose Seobility in 2021! We'll be happy to support you in optimizing your website with our SEO software next year as well.
We wish you a happy, successful, and exciting 2022.
The Seobility Team 💙
PS:
Get blog updates straight to your inbox!