User Flow
From Seobility Wiki
Definition
The user flow of a website denotes the path that a visitor would have to follow through your website, in order to take an action. A website's user flow is typically illustrated in a diagram.
User flow covers the order of pages that your visitor will go through in order, from the point of entry, so acting as a map of a customer's journey through your website.
It is generally held as an internal document that companies use to intuitively improve their website and its overall user experience. Furthermore, it is also used to increase the likelihood that a customer will perform a desired action (e.g. - purchase, contact, download). By better understanding and then improving the process of user flow, users will find the appropriate resource on the site faster and easier.
By understanding the steps that a customer takes before committing a desired action - such as purchasing from your company store - you can make changes to your website that will make it easier for them to perform this step. An example of how you could achieve this would be to make the link to the customer's shopping basket more prominent, or improving the efficiency of the checkout process.
Methods to improve user flows
If your company is looking to enhance the user flow of its website, you should design a layout that promotes clarity, ease of use, and a smooth experience as much as possible.
The user flow should consist of a clear user journey that is relatively consistent across all visitors to your page. Each step should be logical, and clearly lead the user to the intended action.
Any potential areas where the users might require help or support from the company should be isolated and acted upon.
This could involve:
An FAQ page
A video providing a useful instruction or explanation
A pop-up that connects the customer to a help desk (this could then send the customer's query to your team via direct message or email)
A blog post that explains a new feature of your website or a software update that you have introduced.
A page that explains a particular element of your services. For example, an explanation of the technology underpinning your product.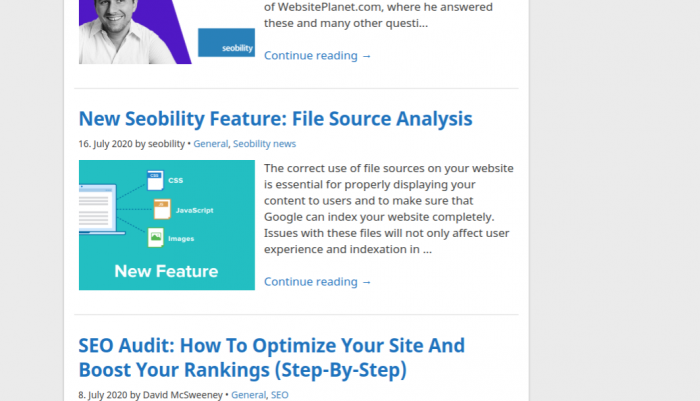 The example above comes from our Seobility blog. As you can see, we included an explanatory blog post to help visitors to the site understand the new File Source Analysis feature.
This form of user support will ensure that no potential sales are lost due to unanswered questions, while also making the users feel comfortable and happy engaging with your company site. By making these changes to your site, your company is proactively engaging in customer service.
Furthermore, a user flow diagram can be used by the website team to quickly isolate any technical difficulties within the site, issues with any features that you have provided, or identify any elements that you may be missing.
How user flow contributes to UX
UX stands for user experience, and this assessment covers the customer's entire experience with your company.
One of the main uses for this internal document is the ability to help a company to visualize the way in which a customer would interact with the web pages.
By understanding the user's mindset and approach to viewing the website, in this way, companies can consider and isolate any key areas for improvement in their website. As such, this document is a great way to get an improved level of UX.
We have already covered the importance of customer service. Another key example of enhancing your UX is recognising that there are a number of different reasons why an individual may be visiting your website. As such, your user flow diagram should aim to understand this, and provide alternative paths that fit these different requirements, and are easy for users to follow and understand.
For example, if a user arrives at your website after searching on a search engine for a long-tail keyword, then it would be helpful to take them to a specific product page, as you know that they are looking for this exact item.
How to create an accurate user flow diagram
A user flow diagram is essential if you are looking to redesign your existing company website, or create a new website from scratch. These simple tips will help you throughout this design process, and ensure that you create accurate and well-considered user flow diagrams:
Think about the user flows as if you were a first-time visitor to your website.
Be proactive in identifying any potential problems that your customer may face, or questions that they may have. Provide several different solutions to these potential problems, as different individuals will opt for different flows when rectifying the situation.
Construct a number of user personas to help you visualize your customers and so create a diagram that better fits their mindset.
Once you have designed your user flow diagram, it is vital that you run it as a prototype, and test it on a market research group.
Seek feedback, and make changes to the diagram accordingly.
Applying these considerations to your user flow diagrams will ensure that visitors have the best possible UX of the website.
Importance for Online Marketing
When drawing up your user flow diagram, you should also consider the different sources that your website traffic may be coming from. Individuals could be visiting your site from a variety of different channels (largely depending on your online marketing strategy), including online adverts, through email campaigns, from an app or your social media platforms.
So, you should consider these different entry points to your website. Design flows which ensure that users are quickly and easily taken to the pages that they will require to perform the desired action that your online multichannel marketing campaign is targeted towards achieving.
Related links
Similar articles
To quote this article, just copy this link:
https://www.seobility.net/en/wiki/User_Flow