Keyword Planner
From Seobility Wiki
What is Google Keyword Planner?
Google Keyword Planner is a free tool that allows you to search for suitable keywords for Google Ads campaigns as well as many different metrics for these keywords. The keyword planner can only be used in conjunction with a Google Ads account. It is firmly integrated into Google Ads and can be accessed via the toolbar.
Importance for SEA and SEO
Private individuals running hobby websites as well as professional bloggers, company websites, or online shops have to do keyword research. Keywords are specific terms that show Google, Bing, etc. what users are looking for. Search engines use them to generate search results that provide users with the most relevant answers to their queries. That is why you should select the right keywords for Google Ads campaigns if you want potential customers to find you on the internet. Google's keyword planner is a free tool that can help you with this task.
By integrating the keyword planner into your Google Ads account, Google can collect extensive information about your website. In addition to the relevant keywords, Google also collects other data, such as the performance of your website, and can thus offer you better and more individual keyword suggestions.
Google's tool offers an ideal solution for search engine advertising, letting you transfer keywords directly from the planner to complex campaigns. This eliminates the time-consuming manual transfer of terms from the keyword planner to the actual ad groups, especially for large campaigns. The tool can also provide valuable information about a website's most important keywords for anyone involved in classic search engine optimization.
Features
You can choose between two different goals when accessing the Google Keyword Planner: you can either search for new keywords that match the respective product or service, or you can retrieve search volumes and forecasts for specific keywords.
There are various ways to search for relevant keywords in the planner. One possibility is to enter the desired terms directly and to search for similar keywords or link them to word groups. Alternatively, you can enter the respective website's URL and receive new keyword suggestions from Google. You can also determine search volume, possible clicks, impressions, price per click, or the expected competition for already known search terms. Thus, the tool provides valuable support for budgeting Google Ads campaigns, since the planner can be used to estimate the costs for such campaigns depending on the settings made.
The following figure shows an example of the information Google can provide when searching for new keyword ideas using the keyword planner: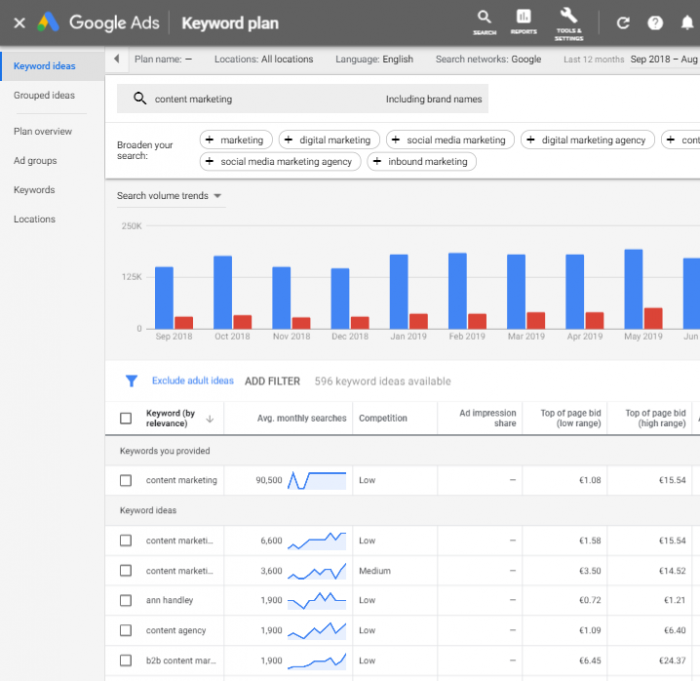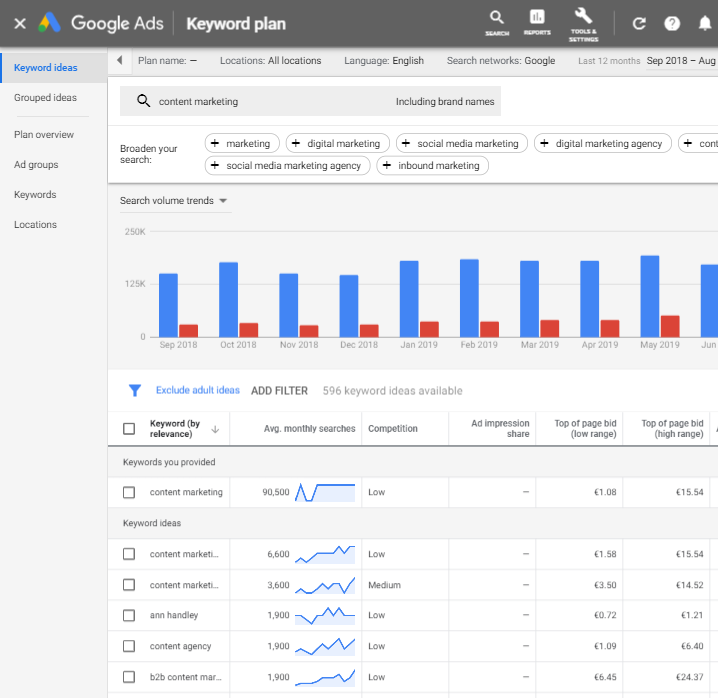 Screenshot with keyword ideas in the keyword planner of google.com
Especially for e-commerce sites, the possibility of getting a conversion rate forecast for each keyword is interesting. The desired conversion value can be entered as a percentage, which is then converted into a concrete price per conversion. This is an initial estimate that can help to determine the click price budget, for example.
The keyword planner not only supports you in the planning of advertising campaigns but can also provide valuable information for search engine optimization (SEO). In addition to the values mentioned above, you can also get estimates of organic ads and the average organic position and thus determine optimization potential.
Conclusion
With a little practice and experience using relevant metrics, the Google Keyword Planner can be an important tool to determine relevant keywords free of charge and to monitor their performance. It has a variety of features that make it much easier to create and optimize search engine advertising campaigns. The tool can also answer hypothetical questions by calculating the expected performance of the keyword and thus showing concrete optimization possibilities.
Related links
To quote this article, just copy this link:
https://www.seobility.net/en/wiki/Keyword_Planner