Inbound Marketing
From Seobility Wiki
Definition
Inbound marketing is a marketing technique that is focused on 'organically' presenting your brand or products while creating some value/engagement to your potential customers. It pulls the customer in, rather than pushing your marketing message out to the customers, as is done in outbound marketing. If you run a corporate blog with content that is useful or engaging to your targeted customers, then you are practicing inbound marketing. This is because the customer is initially interested in a blog post's content, and as they read, they interact with your brand/products, and the solutions they offer.
Buying advertising space on digital and non-digital platforms, on the other hand, is an example of outbound marketing. There is no other value/engagement offered, you are simply pushing your marketing message out to your target market. The effectiveness and recent popularity of inbound marketing can be mainly attributed to its suitability to digital marketing efforts. Apart from blogs; social media, SEO (Search Engine Optimization), events, and online contests are good platforms for inbound marketing.
Tools
There are various tools available to reach the goals of each phase during the inbound marketing process. A selection of these tools is shown in the following figure.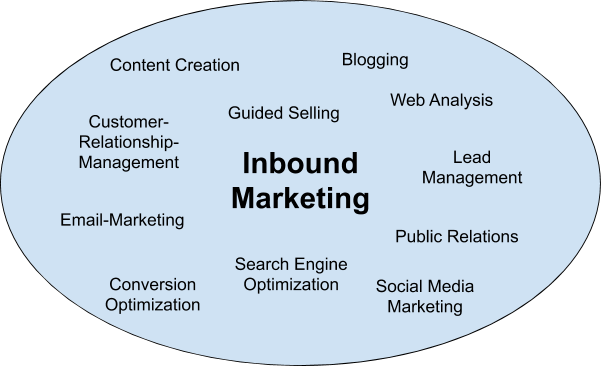 Figure: Inbound marketing tools, Author: Seobility
The inbound marketing process
To get a better understanding of the implementation process for inbound marketing, you need to understand the three phases involved. For any business to successfully carry out inbound marketing, it must: attract, engage, and delight its clients. These are the three phases of inbound marketing implementation.

Figure: Inbound marketing process, Author: Seobility, Source: hubspot.com
Phase 1: Attract
This phase is all about content development and presentation. Basically, it involves strategies to get your customers' attention. For your business to attract customers when implementing inbound marketing, your content has to:
Be Relevant: You need to attract the right kind of customer, someone who will be interested in your offerings. You do this by creating content that is relevant to your brand, your customers' needs, and the products/solutions you have on offer.
Create Value: Your content must provide solutions to your customers' needs. This includes content covering their interests, showing them how to use your products, and testimonials.
SEO: Research and utilize keywords used on popular search engines (especially Google) to reach your intended target. The right keywords will get your content to people in need of products/solutions you offer.
This content can be transmitted to your potential clients either through 'owned' or 'earned' media. Owned media refers to marketing channels that are owned and controlled by the brand. This includes the business website(s), blogs, as well as social media accounts. Earned media refers to channels not owned by the brand, but are earned through successful marketing efforts. These include media coverage (online, print, radio, etc.), social media mentions, and a presence on review sites.
Phase 2: Engage
Having attracted your potential customers with the right content, you now need to engage them with information regarding your brand and products. Inbound marketing is all about subtlety, you are not pushing your marketing content; the customers are 'finding' it. Present your business, and its offerings as a solution.
This phase is also about facilitating a profitable interaction with your visitors and cultivating brand loyalty. Have a website/store design that provides a pleasant and hassle-free shopping experience. Invest in good customer service and provide your customers with all the information they need. Be clear in your call to action, and make it visible and easy to navigate to.
Phase 3: Delight
This phase is all about measuring and improving customer satisfaction. The first metric to measure customer satisfaction should be your conversion rate – the percentage of visitors who respond to your call to action. If you are not converting enough visitors, then their satisfaction levels are low.
You can then fine-tune your understanding of customer satisfaction by tactfully collecting customer feedback. This can be done directly by customer experience surveys and creating accessible platforms – such as online chat and corporate social media accounts – through which customers can send feedback directly to you. Customer satisfaction can also be determined by monitoring your online mentions.
You can only improve the customer experience by utilizing customer satisfaction data in your strategic decision making. Delight customers by retaining the factors that they respond positively to and removing/improving factors that negatively impact their satisfaction. Delighting your customers should be an ongoing process.
Opportunities and Challenges
One of the best opportunities offered by inbound marketing is how cost-effective it is for a business to properly implement it. The marketing channels used are either owned or earned, there is very little in terms of additional channel acquisition costs. The strategy also works best on digital platforms, which have historically been cheaper to own and maintain – think about how social media accounts are technically free to own and operate.
When implemented properly, this is a strategy that converts your clients into loyal brand ambassadors. This saves on your customer acquisition costs since it is cheaper to retain an existing client. A satisfied client will also act as an unpaid brand ambassador who might spread your content and basically carry out free marketing for you within their circle of influence.
As already mentioned, inbound marketing either utilizes owned or earned marketing channels. This reduces your dependence on 'traditional' paid advertisements as a channel to reach your clients. This independence adds to the degree of freedom your business operates with.
The main challenge of inbound marketing is how it requires technical knowledge and special skills for proper implementation. It mostly works on digital channels which means you need the right tools and personnel to leverage its benefits.
Related links
Similar articles