Google Alerts
From Seobility Wiki
Definition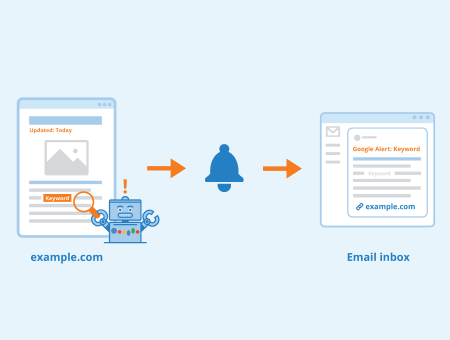 Google Alerts is a free service offered by Google, which exists since 2004. With this tool, every user can set up a notification for any keyword and is informed by Google via email or RSS feed if the search engine discovers a new entry for that keyword in its result lists. The alert thus automatically provides users with news on new mentions on the desired topic. This keeps users up to date at all times and provides them with the latest information published on the internet. Since this saves a regular manual search, Google Alerts is often used for monitoring in companies. However, the service can also be used for private purposes.
How Google Alerts works
When Google adds new web pages to its results lists, the algorithm assigns them to the corresponding keywords. If there is an alert for a keyword, the search engine sends the URL of the newly added page to the user who set up the alert. In the notification email, the results are then displayed in the same way as in Google search in a browser. Users can see the snippet of the respective web page and are directed to the page when clicking on it.
How to set up an alert
In order to subscribe to alerts, you need a free Google account. When you are logged in, open the URL https://www.google.com/alerts in your browser. You can now enter the desired search term into the white box at the top of the page. The same rules apply here as for regular Google search: search queries with at least two words can be linked by quotation marks, for example, if you want to ensure the exact order and completeness of a specific search on the internet. If you put a minus sign in front of a term, you exclude all results that contain this word. An asterisk (*) serves as a placeholder for unknown or variable terms. If you insert an "OR" between two words, you will be informed when one or the other word appears. Particularly with frequently occurring search terms, it can make sense to set up several alerts for different keyword variations. Google Alerts also lists popular terms on its homepage where they can be selected as alerts by clicking on them.
When you have entered a keyword into the search bar, a button with the caption "create alert" appears. To the right of it, you can expand a list of options. Here, you can first choose how often you want to receive notifications. The following options are available for selection: "As-it-happens", "At most once a day" and "At most once a week". Then, you can choose the desired sources such as news, videos or blogs. Multiple answers are possible. If you decide on "Automatic", you will be informed about new publications from all available sources.
You can now choose to restrict the language and the geographical origin of the search results or not to narrow them down using the "Any" option. Under "How many", choose whether you want to be informed about all or only the most relevant results. In the end, select whether you want to receive the new entries via email or whether they should be displayed in your RSS feed. With a final click on the "Create Alert" button, Google saves the settings and creates the notification. You are then redirected to the homepage of the service, where you can set up further alerts if required.
Screenshot of options on Google Alerts
Editing and deleting alerts
On the homepage of Google Alerts, users find an overview of all keywords for which they have created an alert. Next to each of these terms, there is a pencil symbol with which the alert can be edited.
If you have created several alerts, you can also click on the gear icon in the upper right corner of the box. Here, you can activate the option "Digest", which will compress the results of all keyword alerts created into one email.
To delete an alert for a specific search term, simply click on the trash can symbol to the right of the respective keyword. A confirmation to delete is not necessary. However, a yellow field appears at the top of the page for a few seconds. If you have accidentally removed alerts, you can restore them by clicking on "Undo". In addition, each notification email contains links to edit or unsubscribe from alerts.
Importance for search engine optimization and online marketing
Even if alerts do not influence the ranking of individual pages on Google, they are an important monitoring instrument in the areas of search engine optimization and online marketing. You can monitor your own name, company name, and the names of your competitors, a specific topic and much more via search engine notifications. That way, you always have an eye on what others are publishing and whether the amount of publications is changing. You can use this information to continuously optimize your website or a specific campaign.
At the same time, you can use alerts for reputation management on the internet. If you set up notifications for your name and/or that of your company you are regularly informed via publications. Thus, you always know in which context and on which websites your name is mentioned. This makes it easier to quickly react to rumors or negative reports and to ensure that only positive search results for important keywords can be found at the highest positions in the SERPs.
Related links
To quote this article, just copy this link:
https://www.seobility.net/en/wiki/Google_Alerts