Digital Analytics
From Seobility Wiki
Definition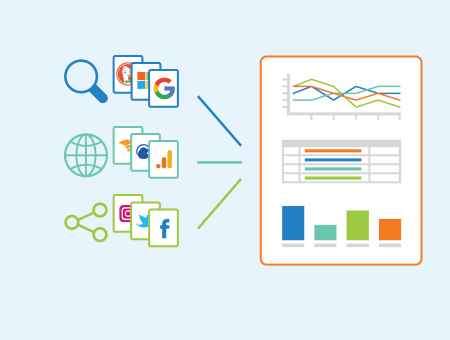 Digital analytics is a process of data analysis that is commonly used by organizations to see how users/customers are behaving and implement changes and improvements to their company's online offerings. It involves the measurement and collection of data pertaining to the way in which visitors use their website, social media channels, or applications.
This data is then analyzed in order to provide a clearer insight into the behavioral patterns of customers. By gaining this insight, companies can use digital analytics to evolve their online presence, improve their customer experience, and achieve unique company goals (for example, to boost their sales or to achieve a higher level of brand recognition).
The types of data that are typically collected during a process of digital analytics include both qualitative and quantitative data, such as the Conversion Rate, Time on Page, and Click-Through Rate. We will cover these in more detail later in the article.
How to perform a digital analysis
Users can perform a digital analysis by gathering data and statistics about the way in which visitors use the company's online platforms.
You can use online tools, websites or mobile applications (of which there are many) to help you collect this data. You can see an example of one of these tools, Google Analytics, below.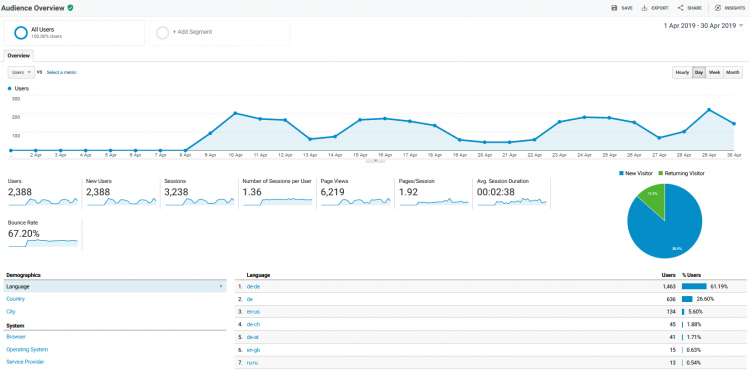 Screenshot with target audience overview of google.com/analytics
In terms of the quantitative data that you collect, these measured figures provide you with a numerical insight into the patterns of behavior of visitors to your company's online platforms.
In comparison, collecting qualitative data helps analysts to translate these measurements and understand them as behavioral patterns. By gaining this knowledge, organizations can use digital analytics to understand what would improve a customer's experience of the company's online platforms, and make improvements accordingly. This way, you can better target the interests of your customers.
A recommended method to use when you perform a digital analysis is the analytics cycle. This commonly used process includes four key steps: measure, analyze, report and test. Firstly, you measure a unit of data that is relevant to your objective, then you analyse it. From there, you create a report detailing your findings. Make informed changes to improve your online offerings. Then, you test the success of these changes by measuring the chosen unit of data. If necessary, you can then repeat the cycle.
It is essential that digital analysis is undertaken with an actionable business objective in mind. You should first decide upon the desired outcome that you wish to achieve by making these trends in your digital marketing strategies.
These objectives should be as specific as possible. An objective could be, for example, increasing the traffic to your website via an original source (such as your social media) by 60%, or reducing your unsubscribe rate for your email campaigns by 20% within 2 months. You can then use digital analytics to measure relevant data and gain evidence as to whether your efforts are helping you to successfully meet your specific objective.
In order to get detailed insights into your digital offering and understand your company's performance thoroughly, you should use a number of different types of digital analytics metrics. You can then compile this data into a report, and use this to see the success of, for example, your organization's recent web advertising campaign.
Types of digital analytics
There are a wide variety of different digital analytics metrics that you can calculate in your organization's online performance analysis.
Below, we have listed a few of the key metrics that are commonly used in this process, broken up into different categories.
Undertaking web-based digital analytics:
Tracking the number of visitors to your site
Measuring the number of page views
Measuring the average length of a session
Tracking data pertaining to your company's e-commerce site
Measuring lead-gen analytics
Calculating your traffic within a specific time period (you could also measure this as traffic by device, traffic by channel, or comparing the ratio of new traffic to returning traffic)
Calculating the interactions per visit
Calculating the average time on page
Measuring the Click-Through Rate of a Call to Action
Calculating your Conversion Rate
Digital analytics for your email campaigns:
Click-through rate
Open rate
Opens rate by device type
Unsubscribe rate
Digital analytics for your social media and published content:
Follows
Subscribes
Shares
Engagement rate
Difference between digital analytics and web analytics
Web analytics focuses on undertaking an analysis specifically of an organization's website. It tracks, measures and evaluates values such as the Page Speed when loading your website, the amount of time a visitor spends on your site, and the number of page views per visit to your website.
In comparison, digital analytics measures these metrics from a business perspective. It evaluates metrics through the lens of the impact that they have on the company. As such, it focuses on values such as traffic, sales conversion rates, and the numbers of new customers. In addition, it provides companies with an overview of data, which encompasses your social media channels, email campaigns and search engine ranking, as well as your company website.
The importance of digital analytics for online marketing
Digital analytics can be used to measure the impact which your marketing efforts have had on your business performance. Digital marketing analytics is a type of digital analytics which is commonly used by businesses, and it is a strategy which is becoming increasingly important in today's world of online shopping. This specific type of analytics is a vital tool for business marketing strategies.
Digital analytics can be used to assess the success of your marketing methods in the following ways:
By calculating your web traffic and the sources of this traffic
By helping to identify poorly performing content
Calculating rate of conversion from overall traffic to a customer purchasing from your website
Isolating a revenue stream that has been generated from a specific marketing campaign
Related links
Similar articles
To quote this article, just copy this link:
https://www.seobility.net/en/wiki/Digital_Analytics