Link Hub
From Seobility Wiki
What is a link hub?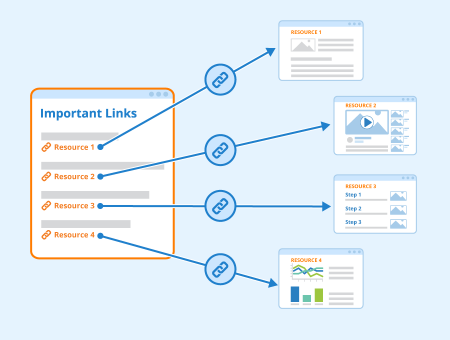 A link hub is a web page or website that contains a range of links to relevant internal or external pages, making it easy for users to find relevant information on a topic. A resources page on a blog that links to various pages/sites where visitors can find more information on a relevant topic is an example of a link hub.
Link hubs can add value to users by providing a curated list of important resources but can also be part of a black hat link scheme.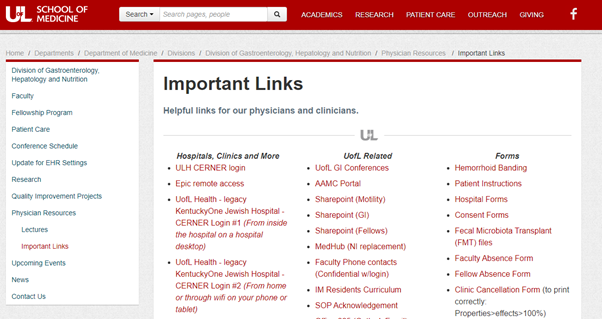 An example of a white hat link hub on University of Louisville School of Medicine's website
What link hubs are used for
Link hubs work by providing users links to valuable information on a given topic. Usually, they are used by sites to add value to readers and increase exposure to important supporting organizations, companies and/or individuals.
Since backlinks from relevant pages are important for SEO, links from link hubs can be an important part of off-page SEO, especially when focusing on topical relevance. However, there are many link hubs that are used for selling links or link spam, often linked to a bad neighborhood. This leads many SEOs to be extra careful when looking to build links from link hubs.
Black hat or white hat?
White hat link hubs are generally found as resource pages on real websites, although there are also link hub sites built with the sole purpose of helping visitors find relevant information on a topic.
The relevance of the links on the page, the quality of the sites that are linked to, and the link profile of the page and overall site are all factors that influence whether a link hub is considered white hat or whether it's acting against search engine guidelines.
Link hubs with a lot of irrelevant links, that sell links, or those that take part in link schemes are generally considered as black hat and have a high probability of being penalized by search engines.
Its relevance to SEO
Link hubs can be a good way for a site to provide extra value to users by linking to relevant resources and websites. This can also help with demonstrating knowledge on a topic and increasing the topical relevance of a site.
Links pointing to a website from a link hub can be either beneficial or detrimental to a website, depending on the quality of the link hub. Backlinks from relevant link hubs linking to high-quality sources can be beneficial to a page's search performance. Backlinks from link hubs with irrelevant links, or link hubs that are part of a bad neighborhood are generally bad for a website's performance and can even result in penalties.
You can use backlink checkers (like our own backlink analysis tool) to gauge the quality of a link profile, as well as discover link hubs that already link to your most important competitors, which indicates that a link from that particular link hub could be beneficial.
Related links
Similar articles
To quote this article, just copy this link:
https://www.seobility.net/en/wiki/Link_Hub