Sponsored Link
From Seobility Wiki
Definition
A sponsored link is a paid advertisement in the form of a high ranking result in a search engine. These appear within the first few pages of results when a user searches for a relevant term in a search engine, such as Google.
When clicked on, these links will then redirect the user to the advertised website.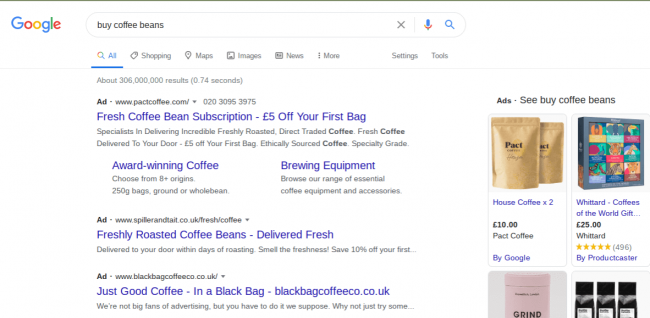 The SERP for the phrase 'buy coffee beans' on Google
As you can see in the example above, in the case of Google results, sponsored links can be identified from organic results by the word 'Ad', which is posited alongside the link. These advertisements are included in the search results when a user searches for a keyword or term which is closely affiliated with the service that is offered by the website wishing to advertise itself.
Alongside occupying a paid position in the results pages of search engines, the term sponsored link may also refer to a link to another domain being included in a piece of web content (such as a blog, or an influencer's social media platform). In both instances, the page viewer must be aware that the paid for link included within this content is an advert, and has been paid for.
This type of advertising is a form of search engine marketing (SEM). These ads help companies to more accurately target specific consumers who - because they are conducting searches that are relevant to the company's products or services - are more likely to make a purchase.
How to create a sponsored link on Google
Businesses can advertise their website to a relevant audience by creating a sponsored link on Google. When the most effective keywords and search terms are correctly identified, this form of online advertising will present the company's website directly in front of individuals who are searching for a provider of a required product or service.
The key to the success of using sponsored links on Google when advertising your business lies in your choice of keywords. It is these keywords which, when they are searched for, will trigger the display of your advert. So, it is essential that they are relevant, precise and commonly used terms.
Once an appropriate keyword is selected, a company can set about purchasing this placement on Google's search engine results page (SERP) by entering an auction.
Within this online auction, your advert will be assessed and provided with a Quality Score in relation to the selected keyword. The higher an advert's Quality Score is, the higher its position on Google's SERP will be. A high Quality Score can also help to reduce the cost per click that companies have to pay for the advert.
The results of the auction will also depend on how much a company is willing to bid for its advert. If the bidding is successful, then the advert will be positioned in one of the highest ranking positions in the results for this search term.
The value of the bid is set at the amount that the business is willing to pay for each click received (the CPC). If accepted, this will be the cost that the business will incur when their advert is live. For example, if a business bids on a payment of 20p per click, if their advert receives 200 clicks, they will pay £40.
It is also important to note that businesses may need to adjust the bid they have put on this keyword from time to time, in order to retain the position of their advert.
‌Improving your Quality Score
As mentioned above, the ranking of your sponsored link advert depends on your advert's Quality Score.
So, in order to ensure that your sponsored link is as cost-effective as possible, it is worth investing some time in improving your Quality Score. A high Quality Score is awarded if the advert holds a clear relevance to Google users who are searching for this term. So, ensure that any ads that you create are closely linked to the keywords that you intend to bid on.
The main elements that are used to determine the Quality Score of ads are as follows:
How relevant it is to the keyword or search term that you are bidding on.
How accurately your advert resembles the content that visitors will find on the landing page that your advert is hyperlinked to.
The current click-through rate of your advert.
How relevant the new keyword is to your existing search engine marketing campaign.
The performance of your company's Google Ads account so far.
Other types of sponsored link
Sponsored links can be used as part of an affiliate marketing campaign. For example, a company may pay an external website to include a sponsored link to the company's product pages within a blog post.
A sponsored link can also exist as hyperlinked text included in the content of an unrelated website. The host of the site will be paid by the advertiser to feature this link on their web page.
Google AdSense is a tool which can be used to facilitate the transaction of these adverts between two different companies. As with sponsored links on Google's SERP, the advert will be paid for by the advertising company on a PPC basis.
The websites who are providing these sponsored links must state that they have been paid for by the advertising company.
Importance for Online Marketing
Sponsored links are a highly effective method of SEM (Search Engine Marketing). This is because they can generate measurable results quickly, and tracking can be used to monitor the company's ROI in detail.
These types of online ads enable businesses to gain a significant amount of brand exposure and boost their outreach to a wide number of potential customers.
Related links
Similar articles
To quote this article, just copy this link:
https://www.seobility.net/en/wiki/Sponsored_Link