SWOT Analysis
From Seobility Wiki
Definition
SWOT analysis is a strategic planning technique that is used to determine your company's positioning relative to your competitors. SWOT stands for "Analysis of strengths, weaknesses, opportunities, and threats".
This approach is based on a business environmental analysis that puts opportunities and risks in a market environment (external or market analysis) in relation to your company's strengths and weaknesses (internal or company analysis). It is done through a SWOT matrix that can help with developing strategies to make use of existing potentials and to identify and contain potential risks in time.
When should a SWOT analysis be performed?
You can use a SWOT analysis to develop concrete strategies for your organization when creating a business plan, for example. It can inform you about resource allocation, investments, as well as measures and projects that should be initiated.
Strengths
These are your company's characteristics and special features which might offer an advantage on your relevant market and set you apart from competitors. Typical examples are unique selling propositions such as locations, qualified personnel, high customer orientation, unique products, low fixed costs, technological know-how, many years of experience, or a strong brand.
Weaknesses
A company's weaknesses are those traits that can put it at a disadvantage against its competitors, such as low financial resources, lack of customer trust, an unknown brand, missing know-how, higher prices than competitors, or dependency on partners.
Opportunities
Opportunities are market tendencies that can be of advantage for your company and can thus generate potential, such as trends in a specific target group, changes in consumer behavior, technological developments, or tax breaks.
Threats
Contrary to opportunities, these are trends in relevant markets that may have a negative impact on your company or even become serious threats to your business model. Examples would be exchange rate movements, economic policy changes in legislation, or new competitors.
Conducting a SWOT analysis
The SWOT analysis is divided into four steps: information retrieval, creating a SWOT matrix, data analysis, and, finally, derivation of possible strategies.
Start by researching information about market developments and your company's current situation. As part of the external analysis, you have to take political decisions, social trends, technological developments, new customer requirements, trends in the financial market, and general legal frameworks into account. Relevant internal factors include unique selling propositions, special know-how, brands, product management, services, corporate processes, your financial situation, or partnerships.
After gathering all relevant data, you can compare them in the SWOT matrix.
The next step is the core element of the SWOT analysis: developing strategies.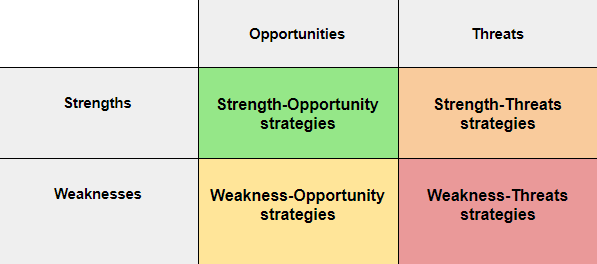 Figure: Strategies in the context of SWOT analysis, Author: Seobility
Where opportunities and strengths intersect, you should use your company's strengths to capitalize on existing potential and maximize the opportunities you identified. In this context, you might consider expanding your product range or entering new business fields, for example. Here it can make sense to use resources differently and make investments in new projects.
Weakness-Opportunity strategies are actions you can take to minimize your weaknesses with the help of your identified opportunities. You should ask yourself if and how you can turn weak features into a market advantage. It is important to decide if your company is willing to raise the necessary resources to tackle new opportunities.
Strength-Threats strategies plan how to counter risks. The focus should be on how individual strengths can minimize identified threats.
Weakness-Threats strategies should minimize your company's weaknesses to avoid your identified threats. You want to think about which weaknesses you need to address, which decisions you need to reconsider, and which actions you need to stop. These weaknesses might be a risk for your company, so you have to act urgently, possibly by leaving a market or counteracting.
Advantages and disadvantages
One of the key benefits of SWOT analysis is that it can uncover new ways and opportunities for a company's future operations by focusing on what chances to take and what strengths to build on. In addition, it helps to identify and mitigate potential risks at an early stage. This offers a company's management the opportunity to develop strategies that set it apart from the competition.
However, the SWOT analysis also has its weaknesses. First of all, it requires an enormous amount of research because you need a lot of information about your company and its market environment. In addition, both the selection of the analyzed categories and the subsequent evaluation and weighting are subjective, which can lead to a distortion of the results. You should also bear in mind that the SWOT analysis initially only describes a status quo that enables you to derive possible developments and measures, but does not yet represent strategic planning in itself.
Related links
Similar articles
To quote this article, just copy this link:
https://www.seobility.net/en/wiki/SWOT_Analysis