Encrypted Search
From Seobility Wiki
Encrypted search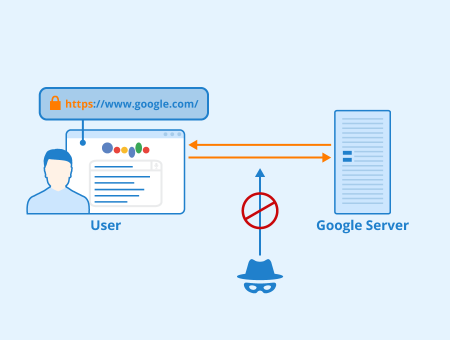 Encrypted search refers to an outdated variation of the Google search engine that they dropped in 2018, which was used to provide users with extra security when using their search engine. Encrypted search originally used the URL https://encrypted.google.com/.
Although encrypted search was dropped in 2018, Google uses an SSL certificate on all searches that encrypts user data and ensures a private connection. When people talk about encrypted search today, they generally mean the use of an SSL certificate by search engines. This type of encrypted search is the focus for this article. The use of SSL can be seen by the https protocol shown before the domain name in the URL, usually along with the padlock symbol in most browsers.

An image of the HTTPS protocol on Google
The reason for added security
Google stated [1] that they had started implementing SSL encryption to improve the security of its service due to the importance of protecting personalized search results. At the time, Google was starting to roll out SERP personalization which required the use of more personal data. The sensitive nature of this personal data led Google to adopt encrypted search, which ensured a private connection between the user's computer and Google.
Google's use of an SSL certificate helped the rest of the industry start adopting improved user data protection regulations. Fast forward to today and almost all websites on the internet use SSL encryption to encrypt communication between the user's device and the server.
SSL for webmasters
In 2014, Google announced[2] they had started using the implementation of SSL encryption as a ranking factor. Since Google refers its users to websites, it is important to Google that they're directed to secure pages. In essence, the websites it shows in its SERPs are direct extensions of Google search itself.
Since then, much of the web has moved to HTTPS as opposed to HTTP, which has helped create a more secure experience online. Although just a small ranking factor according to Google, it is rare to see non-HTTPS sites ranking in Google.
Various browsers including Google Chrome have started showing warnings when sites don't use an SSL certificate. This warning can cause users to move to a different website since it tells them their data is not safe when using a site. Although this doesn't directly affect SEO, it has been shown to cause poor user signals which can hinder your website's performance.
Anonymous browser vs encrypted search
Encrypted search is often confused with anonymous browsing, but there's an important difference between the two. An anonymous browser provides you with a browser window without cookies and with various other measures (depending on the browser at hand) to improve anonymity.
Encrypted search simply means that the connection between your computer and the search engine is encrypted, which prevents other people from seeing your search history or login details but doesn't offer anonymity.
SEO implications
Website security is extremely important and protecting user data is a growing expense for companies of all sizes. Since the European Union's GDPR and other worldwide data protection regulations have come into effect over the past ten to twenty years, the importance of an SSL certificate has become ever more apparent to both search engines as well as webmasters.
Another big implication that encrypted search had on SEO, is that Google stopped sharing much of the user data related to organic searches. This meant that SEOs and webmasters had to find workarounds for understanding how users navigated to their site. Data was limited in the name of privacy, but it made some aspects of SEO and conversion optimization harder.
As encrypted search continues to move from the search engines themselves to the websites they recommend, encrypting the communication between your website and your users is vital to performing well in search engines. The use of an SSL certificate prevents browser warnings and is a direct ranking signal used by search engines.
References
↑ Making search more secure Googleblog. Retrieved 01 February 2021.
↑ HTTPS as a ranking signal Google Search Central. Retrieved 01 February 2021.
Related links
Similar articles
To quote this article, just copy this link:
https://www.seobility.net/en/wiki/Encrypted_Search