Content Curation
From Seobility Wiki
If you can not create your own content (or simply do not want to), content curation is a good alternative. Content curation is an easy way to reach your clearly defined target audience with high-quality content.
What is content curation and how does it work?
Content curation is the process of collecting, summarizing, and presenting various types of content on the internet. It derives from galleries, museums, and exhibitions, where pieces of art are collected, arranged, and displayed to the public. This can be simply applied to posts, videos, photos, infographics, and other content on the internet. In order to do this successfully, curated content should be tailored to a specific target group and be up-to-date as well as relevant.
How does content curation pay off?
If you curate content as part of your marketing strategy, this can pay off in different ways. One advantage is that curating content can be an easy way to gather content for your website very quickly and easily since you do not have to create a lot of content yourself. By collecting content from different sources, you can offer new perspectives and comparison possibilities to your visitors.
If your website offers informative and useful content, visitors might share it (for example on social media) and thus increase your reach and traffic. Furthermore, users can perceive you as more competent if you curate high-quality content which can improve your corporate image. Your company's image is an important success factor and affects your overall reputation as well as customers' perception of individual products, solutions, and services you offer. It is also the basis for customer loyalty and trust.
Content curation can also improve customer retention as providing valuable and relevant content can help you bind customers. Ideally, your website and curated content become a central medium for a clearly defined customer group and prospects with similar problems, challenges, and topics.
Content curation can also be a great way to offer different perspectives and opinions on a certain topic. Involving critics or even your competitors can make your company look self-confident and honest. Often, companies are afraid of advertising for their competitors or being perceived negatively but in most cases, this is unfounded. It is quite the contrary: - your company can be perceived as more competent, honest, pleasant, and confident by following a good content curation strategy.
Last but not least, content curation can help with search engine optimization as interesting content is often shared - especially on social media - and can thus generate backlinks.
What to keep in mind
Before you start to rely on curated content for marketing purposes, there are some things to consider. First of all, you need to set your goals beforehand, as the curated information has to support you in reaching them. To do this, you need to know your target group's interests, problems, and desires in order to gather suitable and relevant content.
Gathering articles and just publishing them without further comments is not enough - and also not permitted (more on this below). To add genuine value for your potential customers, you have to sort, comment, and contextualize the used content. This is what your readers are actually interested in and where you can show your expertise.
You should also keep in mind that curated content is only successful when it is up-to-date and relevant. This means that you have to post regularly in order to bind readers and encourage them to return to your website. In addition, linked content must be checked for availability on a regular basis and, if necessary, adapted or exchanged.
Legal restrictions
When curating content from other websites, you always have to respect copyright laws Basically, you are not allowed to copy another website's content (images or text) if they are not free to use. Citations should always refer to the original source because plagiarism can be legally punished. When you are using citations, it is also important to note that only short quotations are allowed, but not complete pages. You should also not offer external downloads and e-books as part of your own offer.
The safest course of action is to just embed links into your articles. Of course, you can also use citations but make sure to always credit the original source.
Example of content curation
A good example of content curation can be found on anteagroup.com. They gathered six videos about workplace safety and added movie-critic-like commentary. The clips are embedded from Youtube and refer to their sources.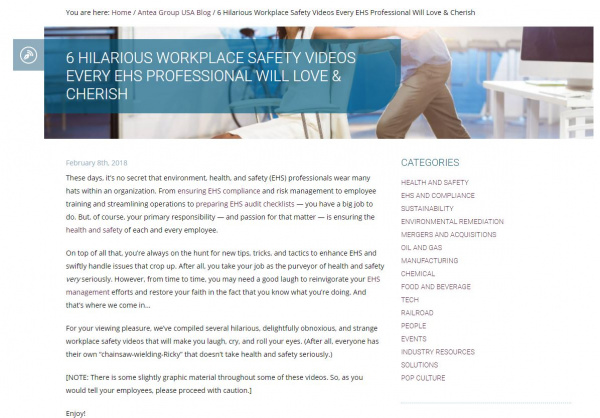 Screenshot of anteagroup.com
Conclusion
Content curation can add a lot of value to your website or blog. If used correctly, it is a good way to emphasize your expert status and retain customers by offering relevant information without the need to produce own content all the time.
Related links
Similar articles
To quote this article, just copy this link:
https://www.seobility.net/en/wiki/Content_Curation