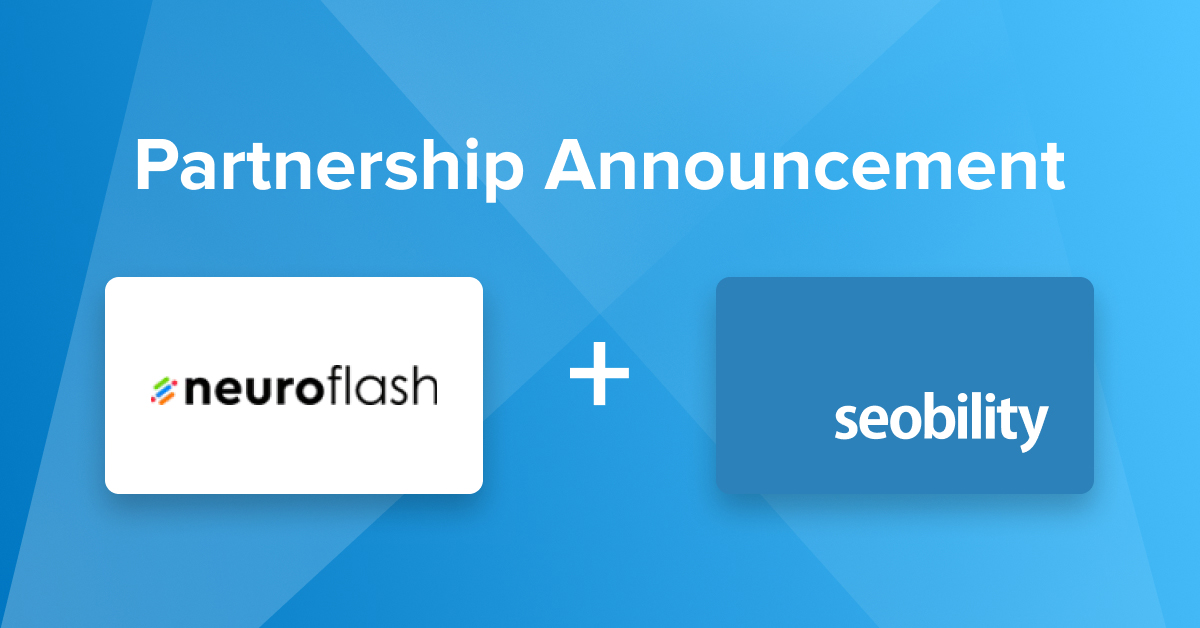 When you're creating new content, do you often find it hard to come up with the first few lines? Does your computer screen stay blank for way too long?
If so, you're not alone.
This is the very reason why modern AI text generators exist. It's also why these tools have rapidly gained popularity in recent years. More and more content creators are using them to support the research, creation, and editing of their texts.
Needless to say, they're quite the tool.
And if SEO technology were to be added to this tool, then content creators' hearts can't help but leap for joy.
Now, it has been.
"neuroflash" is a leading AI-supported German- and English-language content creation tool.
And today, we are happy to announce a new partnership: Seobility provides the technology for neuroflash's new SEO feature!
In this article, you will learn more about neuroflash's new SEO feature and the increasing importance of AI for content creation and SEO.
How an AI text generator can support you in creating content
AI text generators like neuroflash serve multiple functions during the content creation process.
They can:
Help with research
Create an outline for a blog
Provide inspiration for wording
Find the right tone for a piece of content
Etc.
Such tools have already gained popularity in the eCommerce sector, where oftentimes thousands of products are sold on a website. Due to the volume of content required, it's often difficult to create these product descriptions manually.
Of course, AI tools are no substitute for a human copywriter and their ability to turn a phrase.
However, what the tools are now very good at is performing supporting tasks in a matter of seconds… These are tasks that would take a human much longer to generate.
This greatly speeds up the content creation process, as numerous case studies have already shown.
With AI tools like neuroflash, you create the perfect first draft for your text in the shortest amount of time. You can then expand on and refine the content, adding your own insights to create something really unique. It's content that provides your visitors with real value.
Google attaches great significance to content that's really helpful for users. Nowadays, content can't just be written for the search engines, as the current Helpful Content Update makes very clear, also warning to not use plain AI content.
That's why it's so important that you don't just publish the first draft that your AI tool creates. Rather, you need to enrich that content with your own knowledge and add real value. You should design your content so that it really helps your site's visitors.
Whether you need blog post inspiration, want to write a social media post, or are working on the perfect email subject line, neuroflash can get you there faster.
What is neuroflash?
neuroflash uses artificial intelligence to automatically generate or adapt texts. The company was founded in 2021, and today, it has more than 40,000 users.
neuroflash can help with the creation of different types of text, i.e., emails, news headlines, meta descriptions, company information, YouTube video descriptions, etc., etc., etc.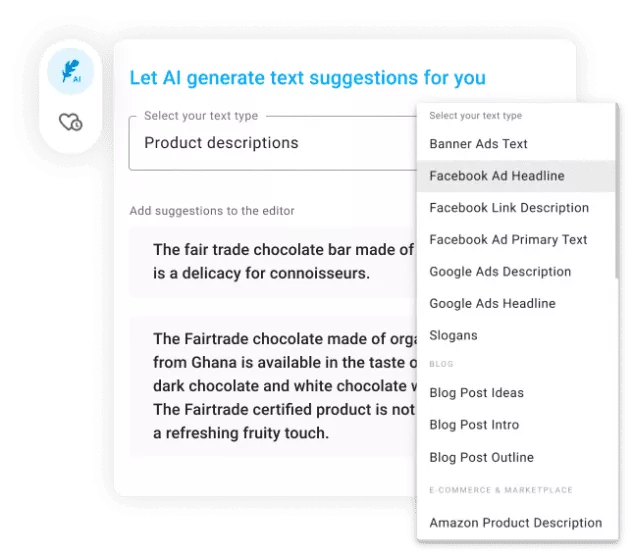 neuroflash can even write love letters for you!
The technology is based on GPT-3.
GPT-3 is a language model that can reproduce human thought patterns so well that the texts are indistinguishable from human-produced content.
How does Seobility extend the functionality of neuroflash?
Seobility is one of the leading SEO software providers in German-speaking countries. As such, Seobility is the ideal partner to provide SEO integration capabilities for neuroflash's AI technologies.
More specifically, neuroflash now includes a seamless integration of Seobility's TF*IDF content optimization tool. You can now find this SEO function under the "SEO" tab in neuroflash.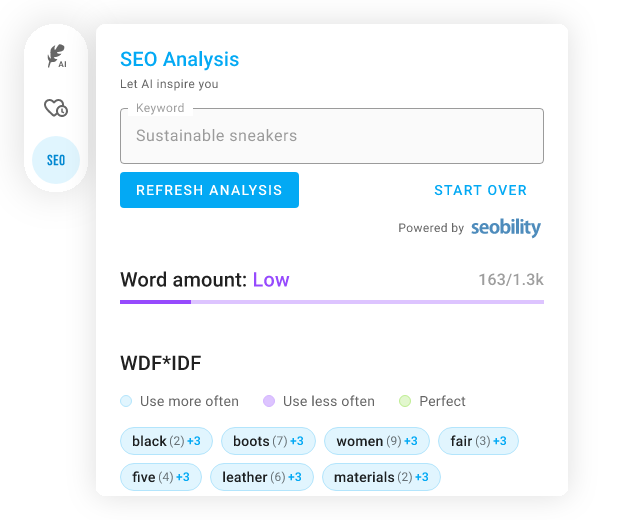 You simply enter the target keyword that you want your text to rank for. Based on our TF*IDF analysis, you'll then be shown important terms that you should use more or less often in your text. This helps you make your text as relevant as possible.
You also get a preview of the top 20 search results for the keyword. This allows you to assess what type of content Google considers relevant to the keyword.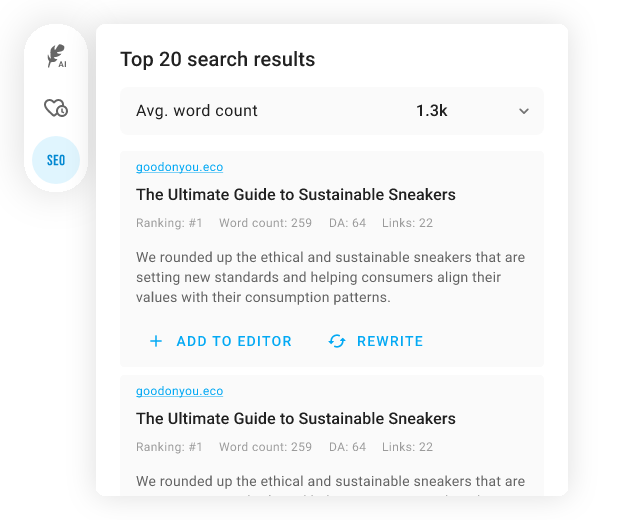 "The combination of modern, AI-supported text creation with our SEO analysis capabilities will make it easier for many neuroflash users to achieve good rankings with their content."

– Matthias Lugert, CMO at Seobility.
How does TF*IDF work?
Seobility's TF*IDF analysis provides you with insight into the text optimization of websites that already rank in the top positions for your target keyword.
Simply put, the TF*IDF value shows how often a specific term appears on a page compared to all the other pages that rank for the same keyword.
(If you are interested in the mathematical details of TF*IDF, you can find a detailed explanation of it in our Wiki article.)
However, at this point, it is only important for you to know this: The analysis helps you to compare your text with the top-ranking pages on the SERPs, and thus identify your text's optimization potential.
With the TF*IDF analysis, you will find out which terms you should use more or less frequently in your content and which ones are already included in the ideal ratio.
Please note that the TF*IDF analysis does not deliver equally good results for every type of keyword. It is particularly suitable for keywords with an informational search intent, where the search results are text-heavy.
However, keywords that lead to different types of results (covering different intents), or where the results contain little text will have lower quality recommendations.
Many thanks to neuroflash for the new partnership!
We are very excited about this partnership and are convinced that neuroflash's new SEO feature will help users to be more successful with their content in search engines!
We are pleased that our TF*IDF analysis tool is now integrated into such an innovative AI content creation tool.
Thanks to the neuroflash team for the integration and the great partnership!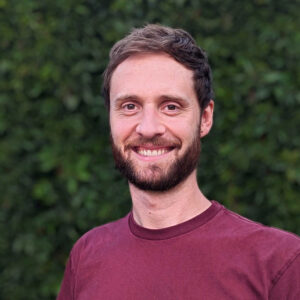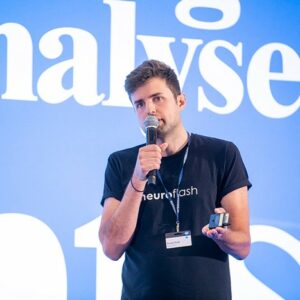 left: Matthias Lugert – CMO at Seobility, right: Henrik Roth – CMO & Co-Founder at neuroflash
PS:
Get blog updates straight to your inbox!