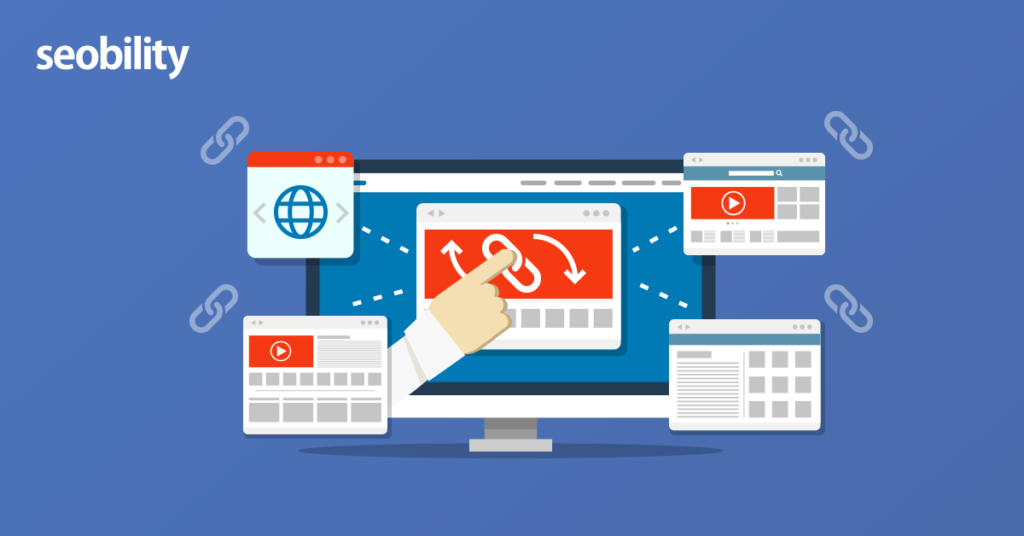 Link building is an important aspect of search engine optimization (SEO), more specifically of off-page optimization. The goal is to maximize the number of high-quality backlinks onto your website, as this is one of the most important factors when it comes to ranking on Google and Co. This is why link building should be an important part of any online marketing strategy and requires creative tactics in order to yield sustainable results. In this guide, you will learn how link building has evolved over time, what a natural backlink profile should look like and which tactics are most suitable for your link building.
Here and at the end of this article, you can find our PDF titled "LINK BUILDING TACTICS – An overview of successful ways to build backlinks". This is an extensive list of link building strategies, which have been rated by the value of the link, expenditure of time and cost.
How link building was approached in the past
The building of links was considered a simple way to successfully improve the ranking of any website only ten years ago. With the help of specific tools, it was easy to get a lot of backlinks into special online registers, which had a positive impact on the ranking of a website. In this time dmoz.org continued growing to one of the most relevant registers worldwide. Nowadays, most backlinks from such registers have little to no influence on the ranking of a website, to the point where if a website almost only has backlinks from such registers (depending on the quality of the register), it can even negatively affect its ranking with Google.
Web directories, similar to registers, were another much-utilised way to build links for a website. This was done by writing short descriptions on certain subjects in various categories, which web hosts used to add backlinks to get readers onto their own site. A large directory is "EzineArticles", which globally was very popular at that time.
Forums were another very popular way to build links, as you could put a link to your own website into your signature and it created a link each time you posted a reply. Hosts utilized this and filled forums with a lot of links which often were completely irrelevant regarding the respective topic. Even in the threads themselves, they added plenty of links to increase the number of backlinks and forced search engines to react by reducing the importance of these links. Today most of the links in forums are "no-follow" links, which further reduces their relevance for link building.
Another way to build links, which was very popular among webmasters, was to use comments in other people's blogs to post links to your own website, practically flooding blogs with endless comments. Often people used the name field in the comment forms to get important keywords into the comments as well. This could lead to extremely absurd and funny names. Special tools for this dodgy link building tactic assisted to leave (or spam) comments on Blogs completely autonomously.
Google's efforts to stop link spam
The link building tactics mentioned above were used extensively by webmasters in order to boost their search rankings. Because of that, directories, blogs, and similar online resources were flooded with links. This way pages with low-quality content stayed at the top of the search ranking on Google, which led to bad quality in the search engine result pages.
Google's reaction to these spam-like link building practices and their consequences was to run several updates to its algorithms, in order to raise the quality of their search results again. They wanted to keep backlinks as an indicator of the quality of websites, but their algorithms would now rate tactics such as link buying and spamming in comment sections on blogs differently, which would deter from using these practices to build backlinks.
One of the most important Google updates was the so-called "penguin update", which specifically targeted spamming through low-quality link building and the excessive use of identical (and for the ranking important) keywords as anchor texts. This still has a massive impact on the general framework for link building today. Since the update, the Google algorithm attributes these spamming tactics less relevance by rating the following factors in a different way when analyzing the backlink profile of a page:
link buying
links from unrelated pages (regarding the topic)
too many exact-match link anchors (where only the main keyword is used and no attention is paid to readability)
too many links established too quickly (unnatural growth)
high amount of low-quality links
Link Building nowadays
The quality of links is a priority now, as a result of the many updates to Google's algorithm. Backlinks should not be created artificially but be the result of a high-quality website. For this reason, search engines advice you to create good quality content, which can be shared due to its value to other users, instead of actively trying to build links.
This is why content marketing is the key to link building today. A well researched and structured content will entice potential backlinkers to share and spread the content and therefore your links. Especially useful tools and compact information, such as check-tools, configurators, calculators, checklists, comparisons, ebooks, and infographics are favorites for sharing. The content has to be especially developed for the target audience in order to be shared and recommended to like-minded people, as a source for articles or as a basis for their own content.
Refer to the section "Recommended tactics for your link building strategy" for more details on this topic.
What does a white-hat and qualitative backlink profile look like?
A website's backlink profile should feature a natural dispersion of backlinks and anchor texts in order to have a positive effect on the rating of your website, or in other words, to not affect the ranking negatively through a low-quality structure. To get there, consider the following factors:
Anchor texts should not always have the same text. Instead of always using the most important keywords, they should also include other information, such as the domain name, which will happen anyway when you build your links organically. However, if the website is littered with lots of backlinks with exact-match link anchors, then you will always run the risk of being hit with a penalty from Google's algorithm.
The amount of backlinks is an important criteria for your ranking in the search results. As a general rule, the more high-quality backlinks a site has, the higher its relevance is ranked by Google. Especially the newest backlinks and the amount of time in which they were created is an important factor for Google to determine if they were created organically or not. Should the search engine notice any discrepancies, a penalty will be very likely.
Where a link is placed is still an important factor for Google to determine how important it is. For example, a link in a footer will not have the same relevance as one which occurs in the continuous text of an article which is relevant for a special topic and will therefore not have the same influence on the ranking of a page.
A high quality backlink profile will not only consist of DoFollow links, but of course will also include NoFollow links as well. Even though these have less influence on the ranking of a site, they always are part of a naturally grown backlink profile. Important is the ratio between DoFollow and NoFollow links, that strikes a balance between a high relevance of the website and a natural backlink profile. Some experts suggest that DoFollow links should make up 70% – 90% of the entire backlink profile of a website.
Another important hint you should consider is not to link only the main page, but also relevant deep pages. This way certain keywords can achieve a high ranking with these deep pages for specific search queries.
You should also place links to external sites from your website. These outbound links show Google, that your website exhibits an organically built backlink profile, which is of value to its readers. Google's algorithm interprets this as an indicator of high-quality content which leads to a positive effect regarding the website ranking.
Another positive characteristic of a white-hat and high-quality link profile is that its links all come from different IP addresses and more specifically different IP subnetworks. This is an indicator for search engines that these backlinks were not created by the same person, so they aren't categorized as spam necessarily.
Pay attention to so-called link hubs, which often are created by blog networks (like PBN). They are usually used to create backlinks to different sites and can damage the ranking of not only the distributor but also the linked site if discovered by the Google algorithm.
Tip: There are tools such as seojet.net that you can use to avoid unnatural backlink profiles.
Recommended tactics for your link building strategy
In order to build a successful and goal-oriented link building strategy, we have listed some recommended tactics in the following paragraphs. To get ideas about how to build your backlinks, see the PDF titled "LINK BUILDING TACTICS – An overview of successful ways to build backlinks" at the end of this article.
Competitor analysis for your link building
In order to create a high-quality backlink profile, you can analyze your competitors' profiles first. This way you can identify their backlink sources in order to use them for your own link building.
Just ask yourself the following questions when analyzing your competitor's backlink profile:
Which of their pages are ranking in the top 10 for your keywords?
What does their backlink profile look like?
Which of their backlink sources could be relevant to your content?
The Seobility Backlinktool provides a very good assistance for a insight in your competitors' link profiles.
By analyzing their backlinks, the tool helps you to find suitable link sources for your own link building. Seobility supports you by finding sites, which are well placed for your keywords and which can be used as a backlink source for you.
Suggestions on how to build backlinks using a competitor analysis with Seobility:
Links of more than one competitor on one page
Pages that rank in the top 40 for your keywords
Pages with guest articles from your competitors
In addition, you can use our free backlink checker to analyze the backlinks of your competitors and find more link building opportunities.
In the next step just contact the potential link sources in order to ask them to place a link from their site to yours. First, you need to find the responsible contact person and to get in touch with a suitable introduction. Think of what value they will get from working with you. In order to achieve this, you could inform them of missing or broken links, missing content, ask them to publish a guest article or work together in some other way.
Mentions
It often happens, especially in blogs, online-magazines and trade journals, that your company name might be mentioned, but no link is set to your website. In cases like this, you might want to contact the website host and ask them to link you. Google Alerts is a good assistance to keep up-to-date with these mentions.
Broken link building
In broken link building links on other websites, which point to no longer existing sites, are replaced with links to your own website. To do this, you need to find these broken links first, contact the web host and let them know that these links are broken. Offer to replace them with links to your own site. In order for these links to still be relevant to their content, you might need to create new content especially for this purpose.
Ask business partners, suppliers and customers about backlinks
Especially at the beginning of your link building process, asking business partners, suppliers and customers to link to your website is considered a good first step and one of the easiest and most cost-effective tactics of link building. Just make sure the site, that you are asking to get a backlink from, is containing high-quality content, in order to ensure it affects your ranking positively.
Maintain your own blog
We know building your own blog is quite a lot of work and requires a lot of time, but it has the potential to be highly valuable to your link building. By publishing relevant blog posts for your target group you will be able to increase the traffic onto your website. As long as the content is valuable and useful, users then will start to link to it pretty quickly. Just make sure the content is not only created for the purpose of link building but to offer your audience articles with real value.
Link appropriate content to get inbound links
If you have your own blog, then it will be worth thinking about linking appropriate content and quotes in your own articles. Make sure you have researched them well and that they are relevant for what it is you're trying to say. Then use quotes or information from the external content in your own article and link back to the source website, which can be a blog or journal.
On the one hand, you can prove your quote or piece of content with the link. On the other hand, this is a very good and proactive way to get the people you've linked to in your article to link back to you. To get a backlink from them you have to contact the quoted people or organizations after the blog is published and let them know that you mentioned them. Be careful how and where you approach them, as a very direct approach or impersonal mass-email will often be ignored by the recipients. So make sure you know who you're contacting, use their name and explain to them what you've written and that you've mentioned and linked them in it. This is a good base for future communications with that person. The goal here is to get the person to link back to your site and ideally to mention your website/ blog or service in an article of their own.
Offer free and helpful content
Offering free online products or content, such as ebooks or checklists, while being a more time consuming and costly alternative, nevertheless offers your visitors a lot more value as well. Well designed and written content make your visitors aware of this free resource so that they recommend it to other people. Ebooks should offer a deep insight into a specific subject and just like checklists, etc. be useful and helpful for your users. Position yourself as an expert on a specific subject and give real and long-term value to your users, unlike linkbait, where you simply want to lure them.
Guest blogging
Writing and publishing guest posts on other websites can be another good way to position yourself as an expert in your topic area. This tactic helps you to not only increase your own popularity but also to reach visitors from other sites and to build high-quality backlinks. Simply place a link into the text of your guest blog to get a positive impact on the ranking of your own website.
Create and publish Infographics
In the last couple of years publishing infographics has become increasingly popular as a way to build up backlinks. As long as they are clear and valuable to the reader, these are often shared and distributed. They can be done for any topic and should offer the reader a quick overview of the respective topic. Always have in mind that it's very important to adapt the content to your specific target audience.
Hint: If you need inspiration for an infographic, just search Google for existing graphics for your subject.
You can do this by typing in the following search terms:
"keyword" + "infographic"
Influencer marketing for your link building
Another way to get good quality backlinks is to get recommendations by well-known people, generally known as influencers. They act as opinion leaders for a certain target group by talking about relevant subjects on their blogs, YouTube channels or other. Because of that, it can be interesting for companies to approach them and tell them about their company or product. In the best-case scenario, the influencer will create a high-quality backlink to your site and in addition, you can reach potential new customers as well.
Influencers do not only have a very high reach, but they can also help you by profiting from their trustworthiness, as many users will believe in what they say with a lot more confidence than they believe in anything that comes directly from a company. That's why influencer marketing is a great tool for link building purposes and also to boost the image of the entire company or website.
The platform "Influencer MarketingHub" offers a detailed guide on how to conduct influencer marketing, from finding influencers, to getting into contact with them and how to keep that relationship going.
Find influencers
Search engines are a good way to find such influencers.
Hint: By using the Google search properly, you can find bloggers on blog-host sites like WordPress and Blogger.com with the following search terms:
site:wordpress.com (search term)
site:blogger.com (search term)
There is also a variety of tools that can come in handy when researching relevant influencers:
Buzzsumo: This tool analyses which content gets shared most across social media for a specific subject and can also find the influencers responsible for these.
Socialmention: This tool analyses and shows the top users for specific keywords and gives you real-time data about current conversation topics in different social media channels.
Influma: This is a search engine, which can be adapted to your own content marketing strategy and can find influencers, but also blog posts, authors and Twitter profiles. You can also set it to monitor subjects that are relevant to your own website.
Influencer marketing helps to bring your brand or product to a wider audience, increase sales and awareness but also to helps to increase other processes such as the creation of backlinks to your site.
Podcast guesting
Podcast guesting is a more advanced but very effective link building tactic. The goal here is to get invited as an expert for your niche to podcasts which are relevant for your audience.
While the podcast episode itself already draws attention to the expert and his/her website, it is usually published in combination with a so-called "show notes" page. There the podcast guest is presented to the audience. The introduction can, for example, be conducted in the form of an interview, but more importantly, it regularly includes a link to the guest's website. Consequently, podcast guesting does not only offer the chance to present your company and build up your personal brand but also to receive a high-quality backlink.
Similar to guest blogging it's important to improve your credibility as an expert in your niche first to increase the chance of getting booked. Then you can educate your listeners with useful content while the audio way offers a chance to build up a more personal and trustworthy connection to the listeners. This effects that the podcast you're guesting has a higher chance to get shared.
Podcasting expert Phil Singleton of Kansas City Webdesign & SEO offers an excellent overview about podcast guesting on his blog. He thoroughly explains where to find relevant podcasts for your niche and what valuable benefits you can get from this link building tactic.
Wiki
The term Wiki has been made very popular by Wikipedia. Wikis don't usually encompass an entire encyclopedia but are focused on one specific area of interest. A Wiki should center around a specific field of interest, usually, one that the company, maintaining the Wiki, operates in. The content of a Wiki should be of a quality as high as possible in order to get people to link to them and therefore to generate backlinks to your website. This will most likely not happen by itself, so it's important to get the right mixture of content distribution (outreach) and cooperations with relevant partners.
There are several open-source applications to help you create a Wiki. These are usually pretty simple to integrate into your own website:
Yellow pages
Register your website in yellow pages or similar online directories is another good way to create backlinks to your site. These yellow pages list businesses by their industry or geographical location. When wanting to build links through yellow pages, you have to register there, set a link back to your website, write a short description of your business and choose a category you operate in. Make sure you pay attention to the quality of the directory, as only the highest quality backlinks will help to boost your link profile. Even though most of these directories only provide "NoFollow" links, these are also of importance to a natural link profile (please see the paragraph: What does a white-hat and qualitative backlink profile look like?)
The following general yellow pages are considered good link sources:
We also recommend using industry-specific catalogs and web directories. While they might not be as well known as the above mentioned general yellow pages, they will give you a more relevant backlink because of their topically relevant nature.
Blog carnivals
A good idea of link building from the blogger sphere are blog carnivals. To start such a blog carnival a blogger picks a certain subject or question and asks other bloggers to share their opinion on this in a blog post of their own. Usually, bloggers will be nominated and linked in these posts and in return, they will link back to the original post again then. This way, whether you invite or just participate in one of these blog carnivals, you will certainly get some good quality and relevant backlinks.
Here's a nice quote regarding blog carnivals from http://www.seochat.com:
"A blog carnival consists of a group of blog posts which is focused on a certain theme. You can think of a blog carnival as being somewhat similar to a magazine. It has both a title and topic. Like a magazine, the blog carnival has editors and contributors who help to operate it. Finally, it must have an audience who will read the content."
The main advantages of blog carnivals are therefore:
Readers will get the chance to find new blogs.
All participants gain some reach.
All participants gain high quality backlinks and links from social networks.
Testimonials
Testimonials show trustworthy proponents usually in a combination of images and quotes. These people usually talk about the positive experiences they had with the product and why they would recommend it. They can be anyone, from celebrities to your 'normal' customer. A testimonial is designed to show the visitors that your website is well-liked and your product or content are valuable and of high quality. Example persons for good testimonials are enthusiastic customers, bloggers or users with a website of their own. There is a big possibility that these people place a backlink to your site in return.
The company OptinMonster is showing some good examples and explains why testimonials are so important.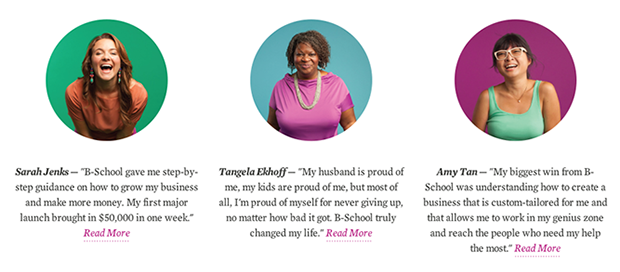 LINK BUILDING TACTICS – An overview of successful ways to build backlinks – PDF
Apart from the link building tactics mentioned in this article, there are of course numerous other ways to build backlinks to your site. That's why we've created this PDF, where you can find a list of many different link building tactics, rated by the value of the link, time expenditure and costs.
Further information
PS:
Get blog updates straight to your inbox!