App Store Optimization (ASO)
From Seobility Wiki
Relevance and definition
The importance of smartphones in everyday life and work grows and so does the supply of and demand for useful applications. iTunes or Google Play offer an ever-increasing selection of apps and developers strive for a high ranking in the search results of app stores. App store optimization, also known as app store SEO, app search optimization, or mobile app SEO, is gaining in relevance. To achieve a high ranking in app stores, ASO relies on factors that can be influenced both directly and indirectly, described in detail below.
Benefits of a high app store ranking
Most users systematically search Apple's and Google's stores for apps that might interest them. Popular examples include navigation software, photo editing, and personal organizers. Overall, the demand for different applications knows almost no limits. At the same time, new developers are constantly trying to conquer the market and establish themselves among several million apps. ASO is supposed to help with achieving good results in the listing for specific keywords, as this brings some advantages for app developers.
An app's increased visibility allows more people to get to know the application. More downloads, in turn, generate more interest and improve its relevance.
Different factors determine the position in the search results. App developers can influence some of them directly, others only indirectly. The next section will explain these factors.
Factors influencing an app's position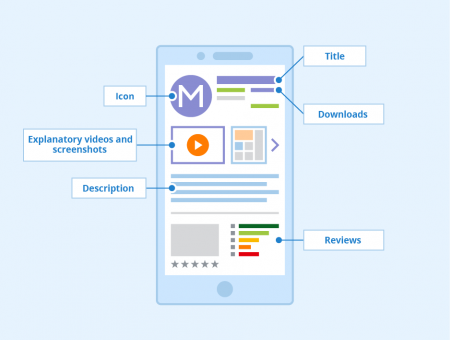 Factors you can influence directly
ASO has parallels to search engine optimization (SEO) in many areas. Keywords, for example, also play an important role in ASO. You can enter certain keywords when searching app stores and receive a more or less extensive list of results for your query. Including keywords in an app's title and description leads to a higher relevance within the active algorithms. An attractive icon and informative screenshots informing about layout, interface, and functions are also important for the success of an app. Although these elements are less important when it comes to ranking applications, they are still part of app store optimization as they help convert visitors into buyers.
The following is an example of how to optimize your app details page in Google Play Store using explanatory videos and screenshots: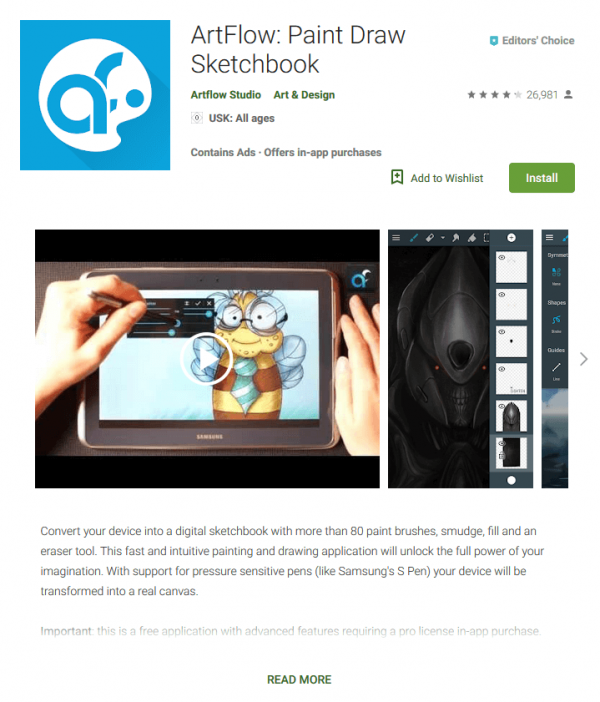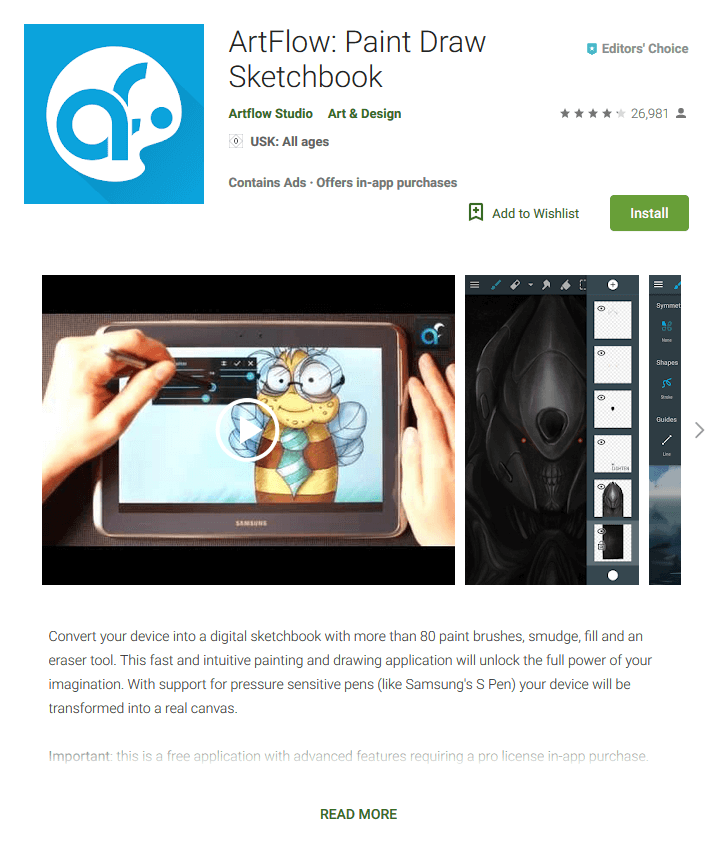 Screenshot of play.google.com
Factors you can influence indirectly
There are several other factors that can influence the ranking of your app, but that you cannot influence directly. For example, a high number of downloads leads to better positioning in the search results. In this context, there are clear advantages for financially well-positioned developers who can advertise their apps externally and thus increase awareness without complex ASO.
App stores usually also evaluate other data such as the time frame since the last download, which cannot be influenced directly.
Another major factor when it comes to an app's ranking are user reviews. A high average rating attracts user interest so that the store ranks the app further up the results list. While you can not influence reviews directly, factors like usability, reliability, and comprehensibility can contribute to receiving good reviews.
Identifying keywords for ASO
As a layman, finding precise keywords for an app's title and description is not easy. However, various developers offer tools specifically designed to help you identify keywords. With synonyms, word fields, and categories, these mostly free applications offer a lot of ideas.
It is also important to note that stores search for keywords not only in the provider's description but also in the user reviews of an app. You might come across repeated terms in your customers' reviews that are suitable for categorization.
However, this first and probably quite extensive collection of keywords should not simply be used as a vocabulary to describe your app. Like online search engines, app stores also determine the information content of texts and punish keyword spamming. This is why it makes sense to select only the most relevant terms from the list. A short title followed by a description containing selected keywords can significantly increase the number of clicks. However, it is not advisable to use irrelevant keywords merely because of their high demand. If users notice that your app does not deliver as promised, this can damage your ratings and number of downloads as well as your ranking in the store.
Conclusion
The huge number of apps available at Apple, Google, and other providers makes it increasingly difficult for newcomers to enter the market. This is why ASO quickly became more important. While pure keyword collections without content could achieve good results in app stores just a few years ago, today's marketplaces do not allow this. Modern algorithms and user ratings quickly punish wrong keywords or similar methods. As with other web content, app descriptions should, therefore, contain as much information as possible.
In addition to category, popularity, and ratings, other factors influence app search optimization. For example, appealing screenshots can draw attention to your app within the store and set it apart from poorly described competitors. In summary, SEO knowledge can support app store optimization, but there are also numerous tools that make the process easier for beginners.
Related links
Similar articles