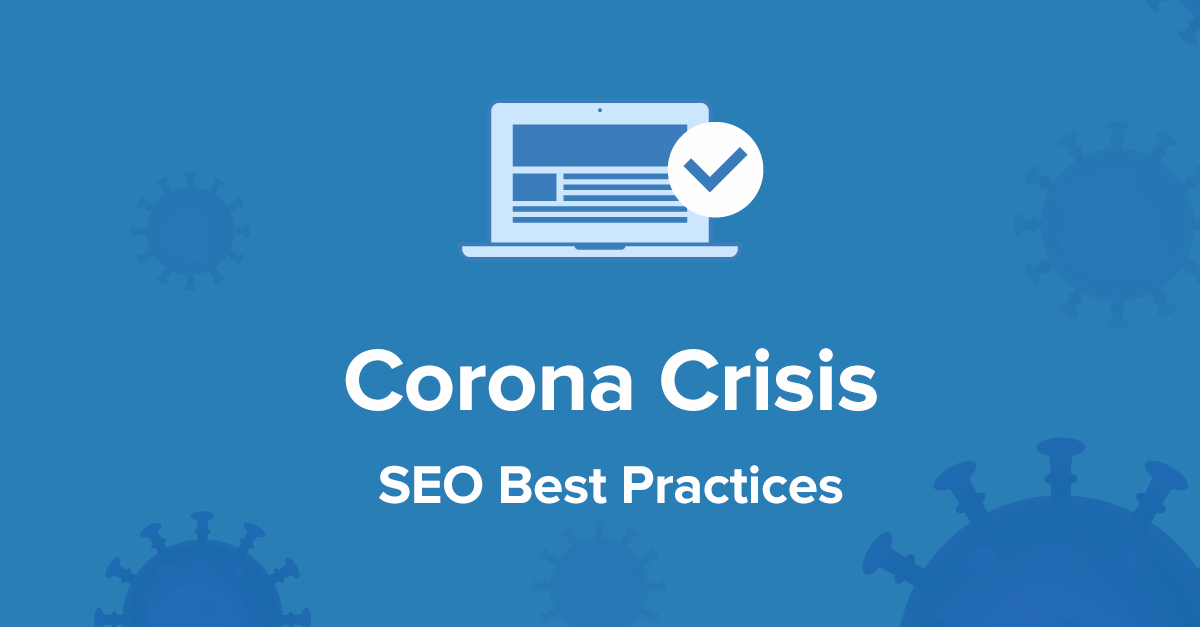 The recent Coronavirus (COVID-19) pandemic has left a lot of business owners in a precarious situation. Many had to put their services on "pause" by either closing up completely or by offering a limited range of services for a temporary period of time.
Do you find yourself in such a situation, unsure about what your best moves are? Then read on!
Learn best practices on how to pause your business in an "SEO friendly" way and find out whether investing in SEO is worth your while in these times. Finally, we picked some tools for those of you, who need or want to rethink their business for the future.
What Google recommends if you need to pause your business
Your website should clearly communicate relevant changes related to the Corona crisis. Users and Google both need to know that your business is not shut down permanently but, for example, paused or limited. The goal is to be transparent while at the same time minimizing negative effects that might impact your business in Google Search.
Google published an article on its Webmaster Central Blog with recommendations on how to pause your business in Google Search. Below, we summarized the best practices that Google provides and added some examples of how to implement them correctly.
Don't shut down your website or remove individual pages
Faced with financial insecurities, delivery problems and several other challenges, you might be inclined to disable your website completely, such as Patagonia temporarily did with their online shop in March: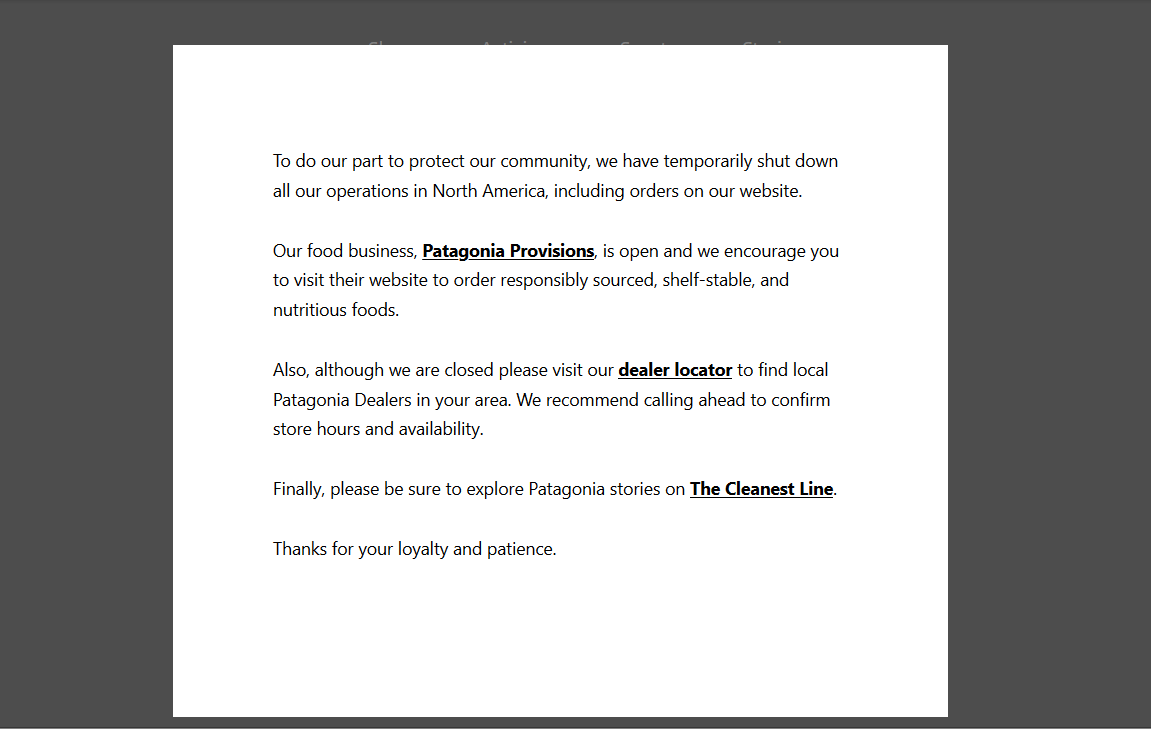 Screenshot of patagonia.com in March
Google does not recommend this. It will negatively impact your rankings and traffic significantly. Disabling your website or deleting your Google MyBusiness listing should only be a last and final resort.
Instead, you should keep your website live but limit its functionality for a set period of time, if necessary. That way, you can maintain your rankings and customers can still find information about your business.
Google also advises against removing individual pages from your website or preventing them from being indexed – even if certain products in your online shop are unavailable at the moment. Users might still find it useful to get information about these products on your website and in Google Search. Hence, make clear to users that they cannot order these products at the moment, so they won't get confused, and only limit the functionality of the pages (more on this below in section "Disable cart functionality").
Keep your customers up-to-date on your website
You want website visitors to know that your services/products are on pause or at limited availability at the moment to prevent confusion.
Generally, Google recommends to add a banner to your website that informs visitors of your business's status. Let them know whether you had to close your physical stores, whether shipping times have been impacted, whether you have fewer reps available for customer support, or that a specific line of products are unavailable. Here's an example of how that looks like on Amazon:
Screenshot of amazon.com
Bonus:
Consider additional options, such as creating an email list to let visitors know when your store re-opens. You can also sell vouchers in order to compensate for lower product sales and to make sure that your customers will come back after the crisis. Be creative and think about how you can stay in touch with your customers!
Update your Google My Business profile
Google recommends to indicate in your Google My Business listing that your business is "Temporarily Closed".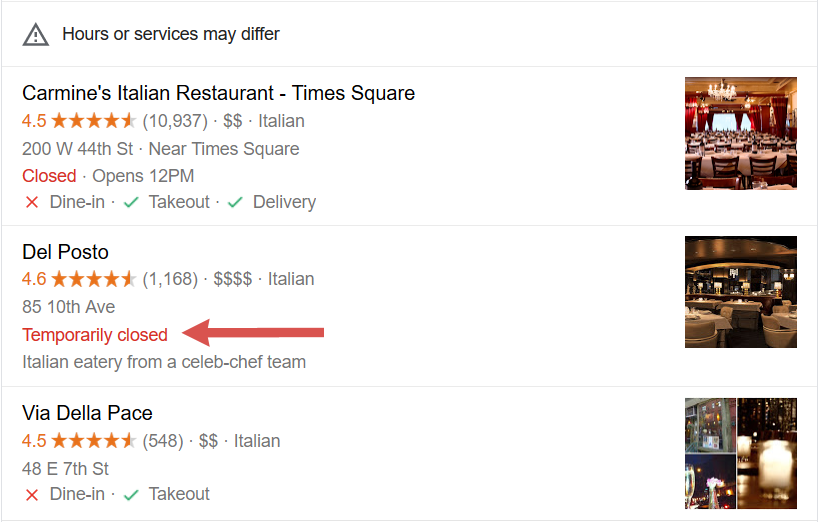 Screenshot of google.com
To update your Google My Business listing, follow these steps:
Sign into your Google My Business account on desktop.
Click "Info" in the left menu.
Hover over the section "Close this business on Google".
Expand this section and click "Mark as temporarily closed".
Google has confirmed that doing this will not negatively affect your rankings. Add this status to your GMB rather than close your account, remove your website link from your profile, etc.
Disable cart functionality
If you are no longer selling any or certain products or services, you should disable the option to purchase them on your website.
Depending on the eCommerce platform you use, you can disable the shopping cart so customers won't be able to follow through on a purchase. This helps you avoid issues of customers making a purchase and wondering why their order isn't confirmed or why they haven't received their item. Here's an example of how this could look like: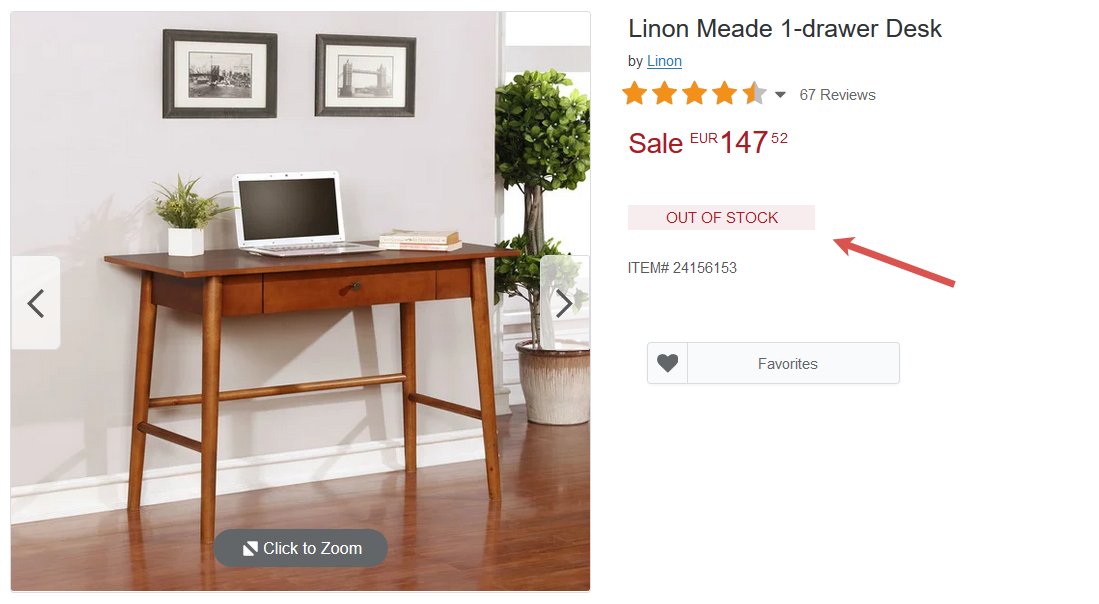 Screenshot of overstock.com
According to Google's Gary Illyes, doing so will not hinder your website's visibility in organic search. Regarding the closure of eCommerce sites: "Closing the cart and putting up a message that explains to the user what's happening should be the way to go if you're planning the closure will last a long time."
Update your website's structured data
If your website uses schema (aka "structured data"), you should update it to reflect any recent changes, such as the product's availability or whether an event has been canceled.
In fact, schema.org recently added coronavirus-related structured data types to help website owners make these changes.
Are you an event organizer, for example? Indicate whether an event has been moved from a physical location to a virtual summit and whether its "eventAttendanceMode" is offline, online, or mixed. This information will be displayed in Google's search results:
Screenshot of google.com
Do you run a restaurant affected by the shutdown? Add information about delivery services to your local business entry. Google Maps now provides filters for takeout and delivery food, so you can easily increase your visibility with such simple adjustments.
There are also structured data options available for you to update your business hours or indicate whether your business is temporarily closed.
Don't forget to tell Google about the changes you made by submitting the affected URLs to Google Search Console individually or by sending in an updated sitemap.
Further mistakes to avoid when pausing your business
Disabling your customer service channels: If it's possible for your business, you should keep up your customer support and try to stay in touch with your customers during the crisis. If you have email subscribers, don't neglect these either!
Ignoring your website maintenance and security: Providing a well-functioning and secure website is important if you want to maintain your search engine rankings.
Running paid ads to obsolete landing pages: This will only confuse users who click your ads and cause unnecessary costs for your business.
Should you invest in SEO during the Corona crisis?
The short answer is: we strongly recommend you to invest in SEO, if you have the resources for it. This will make sure that your website is well-positioned when the crisis is over and things get back to normal. Online business is getting more important now due to Coronavirus restrictions and it's very likely that businesses will continue to expand their online activities after the crisis. Thus, the search results will become more competitive and you should ensure that your website is prepared for this!
Here are a few suggestions on how to effectively use your time for SEO during the crisis:
Build backlinks to your site
If your regular business is paused at the moment, this means you should have more time to up your link building efforts.
You should build backlinks to your site to improve your site's authority, drive more traffic, and boost your organic rankings. Consider using this time to submit guest posts to industry publications, run PR for your business to land interviews and features, and create linkable assets (ebooks, PDFs, etc.) so you can increase your site's authority even during Coronavirus. Since backlinks will take some time to unfold their potential, this is a reasonable approach even if your business is on pause now.
Create content if possible
Even if your business is on pause, this doesn't mean you need to halt content creation. If you have enough resources for it, you can even try to rank for Coronavirus-related terms by targeting questions your customers might have during this time.
For example, you can create guides on how to sanitize your products during COVID-19, write how-tos for businesses that might be struggling to get clients during this time, add a Coronavirus FAQ page to your site, and publish video content that addresses any questions your audience may have related to the Coronavirus. Here's a great example of how a wedding website did this: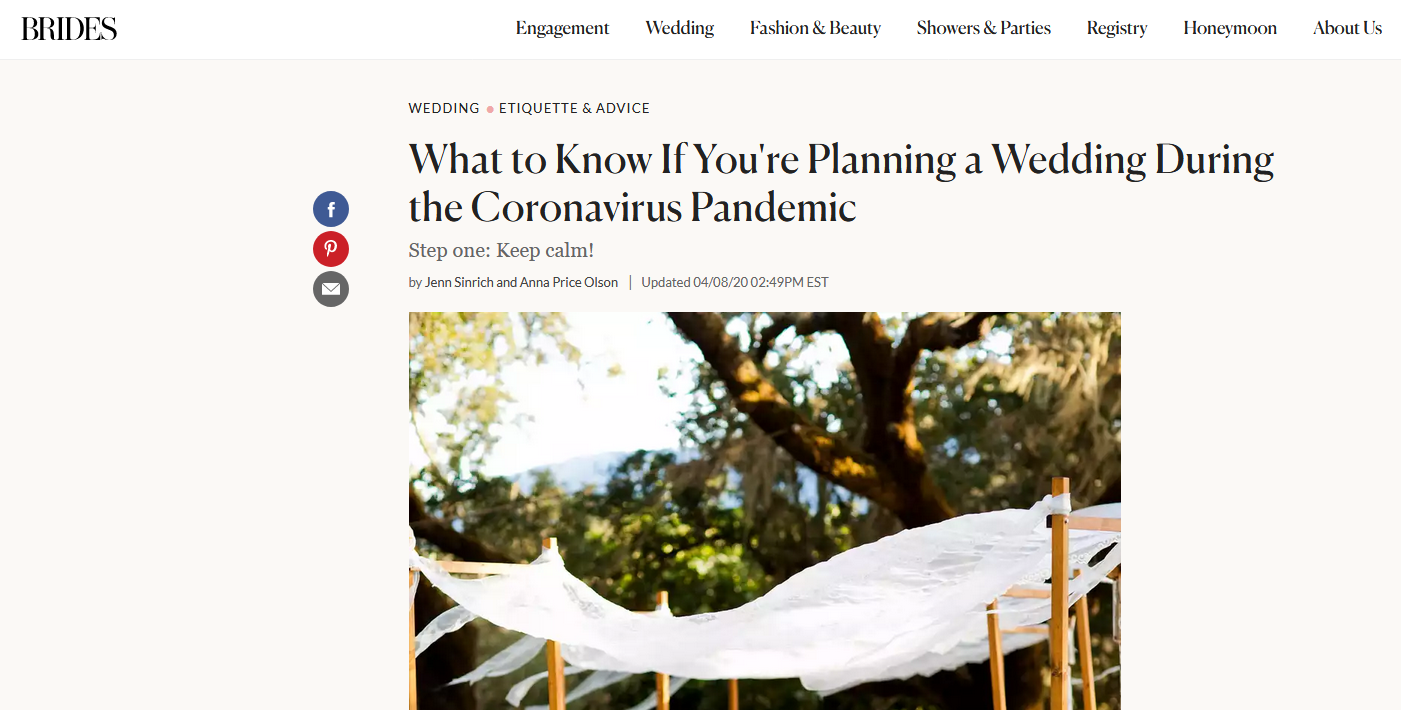 Screenshot of brides.com
However, you should keep in mind that this content will only be relevant during the crisis and not provide any long-term value to your website. If you have to save on resources, you should focus on creating evergreen content instead. Although the search volume for such general keywords might be lower at the moment, this content probably continues to lead visitors to your website in the future.
Make sure your website is well optimized
To make sure that the content you create and the backlinks you build unfold to their full potential, you have to make sure your website is free of errors and well optimized for Google.
We recommend using an onpage crawler, for example our SEO tool Seobility. It helps to identify and eliminate errors on your website and provides further suggestions for optimization.
Unfortunately, some businesses might even have to pivot in order to stay afloat – potentially to the point of completely reinventing themselves. Doing so may not only be necessary but could turn out to be a smart move. You might not only be able to minimize losses but also find new, lucrative ways to monetize if there has been a decrease in demand for your usual goods or services.
Analyze trends
If you find yourself in this position, you should analyze current trends to find new opportunities. See which offers are still selling and bring these to the forefront.
Under regular circumstances, search volume would be a standard indicator to identify keywords with high potential. In this highly dynamic situation however, you should not rely on this metric but focus on trends instead.
Use tools like Google Trends, Exploding Topics, Glimpse, and Treendly to analyze such trends. Learn which industries/products are on the rise and whether your business can tap into a new market. You might find a new area where you can be of value to your customers so you ultimately don't have to close up your shop.
Listen to your customers
Whether you are in B2B or B2C, it's likely that your customers have adjusted their interests and priorities.
Is there a product or service you have been meaning to create? Can you adjust an existing offer to fit what consumers need during this time? What new products or services would they like to buy?
Keep your eyes and ears open and you might find attractive new business opportunities.
Conclusion
There are many actions to take in order to keep your website up-to-date and safe or even improve your rankings in Google's organic search. If you have an online business, now might be the best time to double-down on your SEO efforts to either strengthen it or re-start extra strong when normality slowly returns.
All the best for you and your business!
Here are some further reads that we recommend to dive deeper into the topics we discussed above:
https://www.schemaapp.com/how-to/your-guide-to-covid-19-structured-data/
https://miromind.com/blog/why-you-should-continue-seo-during-the-coronavirus-pandemic
https://www.searchenginejournal.com/seo-marketing-combat-coronavirus-impact/354780/
PS:
Get blog updates straight to your inbox!