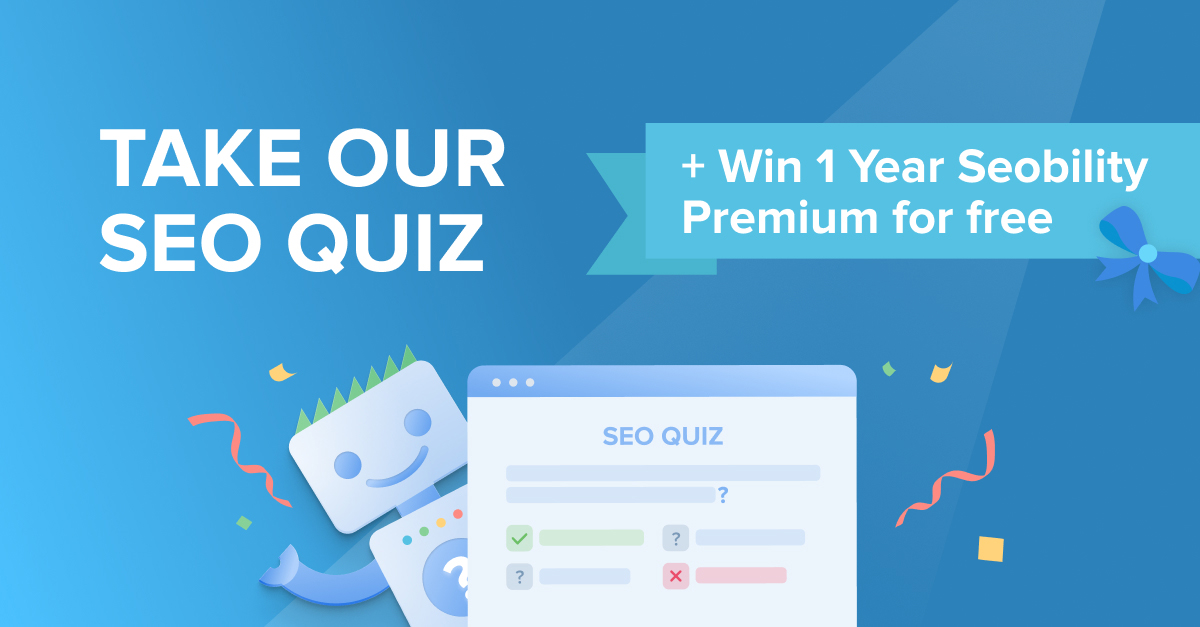 Are you ready to prove your SEO expertise in an ultimate knowledge test… while getting the chance to win one year of Seobility Premium for free?
Then keep reading 🙂 Because today we're introducing our brand new SEO Quiz that lets you test your SEO knowledge in a fun and quick way.
In this article, we'll explain what our quiz has to do with Google's SEO Guidelines and how you can win one of the free Seobility accounts!
How is the quiz structured?
Our quiz includes 20 questions, covering various aspects of SEO such as crawling and indexing, link building, mobile SEO, and many more.
What's so special about it?
Well, we didn't just pull the questions and answers out of thin air. Instead, the quiz is entirely based on Google's official SEO Guidelines (to be specific, on Google's "Advanced SEO" documentation).
So rest assured that the quiz only tests relevant SEO knowledge and that all information is profound and accurate.
The quiz consists of 5 parts, in line with the 5 main chapters of Google's Advanced SEO documentation:
Getting started: As a warm-up, we'll start with a few general questions about SEO and the way Google Search works.
Guidelines: Questions about Google's well-known Webmaster Guidelines and other general, content-specific, and quality guidelines.
Control crawling and indexing: Ways to optimize how Google crawls and indexes your website. This includes topics such as sitemaps, robots.txt, meta tags, duplicate content, etc.
Change your Search appearance: How to improve your site's Search snippets, e.g. by optimizing your page titles and meta descriptions or by using structured data to qualify for rich snippets.
Optimize your page experience: User experience optimization, including Core Web Vitals, mobile SEO, and website security.
Does this mean you have to read the complete Google guidelines before you can take this quiz?
Not necessarily! We made sure that everyone with substantial SEO experience should be able to pass the quiz… Can you? 🙂
Giveaway
Update June 29, 2022: The giveaway is over. It's no longer possible to participate.
Besides being able to prove your SEO expertise to the world, there's another great reason why you should take our SEO Quiz:
Among all participants who pass the quiz and share their results on social media, we will give away 7 annual Seobility Premium accounts (total value: $4,000+)!
This will give you access to:
Comprehensive Site Audits for up to 3 Projects
Mobile & Desktop Rank Tracking for 300 Keywords
Backlink Analysis & Linbuilding Tools
and many more benefits!
And here's how you can enter the giveaway:
Pass the SEO Quiz.
Share your winner image (which will be displayed on the result page) or a screenshot of your result on social media.

Either add a comment to one of our giveaway posts (Facebook, Twitter, Instagram, Linkedin) or use the hashtag #seoquiz in your own post.

(Double your chance to win by writing a comment and creating a post.)
This giveaway starts today and ends on June 8.
Winners will be announced on our social media channels after June 9 and will need to contact us via PM or email ([email protected]) within one week.
What are you waiting for? Take the SEO Quiz now and be one of the lucky winners!
Good luck to all participants and of course, have fun with our quiz!
If you have any questions or feedback let us know in the comments!
Many thanks to our media partners:



Terms of participation and legal information
The giveaway starts on June 1, 2022, and ends on June 8, 2022, at 23:59 CET.
The giveaway is organized by seobility GmbH, Willy-Brandt-Platz 16, 90402 Nuremberg, Germany.
The giveaway is not affiliated with Facebook, Twitter, Instagram, Linkedin, or Google and is in no way sponsored, supported, or organized by these platforms.
The following prizes will be given away:
7 x annual Seobility Premium accounts
2 x tickets for the OMT online conference (only available for German users)
To participate, the passed SEO quiz result has to be shared on social media. There are two options available for this:
Add a comment with the winner image or with a screenshot of the result to the official Seobility giveaway post on Facebook, Twitter, Linkedin, or Instagram.
Create your own post with the winner image or with a screenshot of the result and the hashtag #seoquiz on Facebook, Twitter, Linkedin, or Instagram.
Comments that violate the Facebook guidelines, German law, and/or copyright will be removed without announcement after notice.
Only business owners and company representatives are allowed to participate. Consumers and persons under the age of 18 are not allowed to participate.
Employees of seobility GmbH, as well as relatives of such employees, are excluded as well. Participation with fake identities or with the identities of third parties is not allowed.
The winners will be selected randomly at the end of the competition. All comments on our official giveaway posts as well as posts with shared quiz results and with the hashtag #seoquiz will participate.
The winners will be announced on our social media platforms. Each winner must respond within 7 business days via email or private message to our social media channels with their name and email address. If a winner does not reply within this period, his prize will be given away among the remaining participants again.
We reserve the right to terminate the giveaway at any time if it is not possible for technical or legal reasons to guarantee the proper execution of the giveaway.
All names of the participants are saved in order to select the winners. All data will be deleted after the end of the giveaway. Email addresses will only be collected from winners and will only be used to create Seobility accounts. The data will not be transmitted to third parties. Participants have legal rights in terms of information, changes, and deletion regarding their personal information. Apart from that, our privacy policy applies, which is available at https://www.seobility.net/en/privacy/.
German law applies. Legal recourse is excluded.
PS:
Get blog updates straight to your inbox!