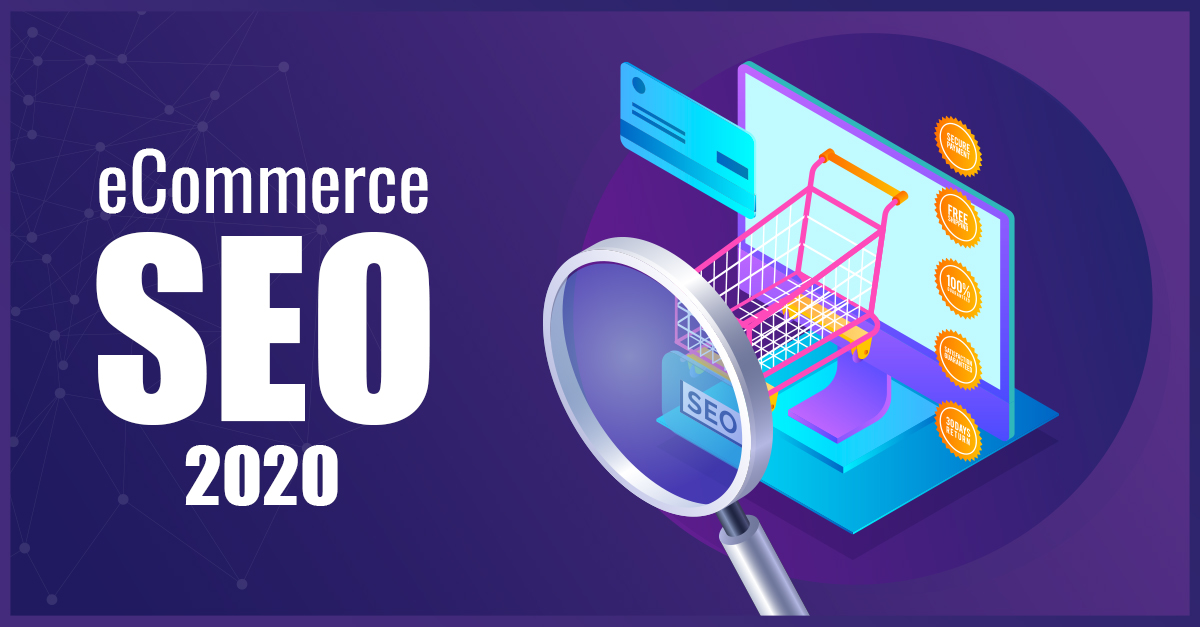 E-commerce SEO is not like regular SEO. Google takes serious strides to protect users from faulty, unoptimized online stores. As a result, getting an e-commerce site ranked on the SERPs is becoming harder by the day. For retail businesses that exist solely online, even seemingly small SEO mistakes can translate into lots of lost revenue.
The good news is many of these mistakes are easy to fix!
If your e-commerce site is experiencing a dip in traffic, conversions and revenue, you might be guilty of making these common blunders. In this post, Manish Dudharejia from E2M Solutions has outlined the most blaring SEO mistakes e-commerce sites can make in 2020 – as well as some solutions to correct them and get your sales back on track!
Keyword Stuffing in Product Descriptions
Steering clear of keyword stuffing should be common knowledge to SEOs nowadays. However, it's surprisingly easy to overlook this on product pages. Obviously, you want these pages to rank for as many transactional keywords as you can. But similar to regular web pages Google can give your e-commerce site a nasty hit for using this outdated black hat technique.
So how do you know you're going overboard with keyword inclusion?
Where do you cross the line of "keyword stuffing"?
There are several indicators that Google looks for to determine if a website (e-commerce or not) is guilty of keyword stuffing.
Irrelevant keywords which add no value
List of keywords in a group and often out of context
Blocks of text citing cities, states, or phone numbers
Repeated phrases throughout a paragraph in an unnatural cadence
Now, if you look at some product pages on Amazon, you might notice that some have super wordy descriptions jam-packed with keywords.
This may work well for Amazon's internal search engine, but it doesn't for Google.
In 2020, keyword usage (for Google) is all about getting to the core of search intent.
What's the move?
Your keyword research and content creation for product pages shouldn't just be focused on metrics like search volume and difficulty. The main focus should be on providing the answers people are looking for. This is what search intent is all about.
Let me give you an example. Say you sell coffee mugs online. Using ahrefs, let's see what questions people are asking in relation to the phrase "buy coffee mugs":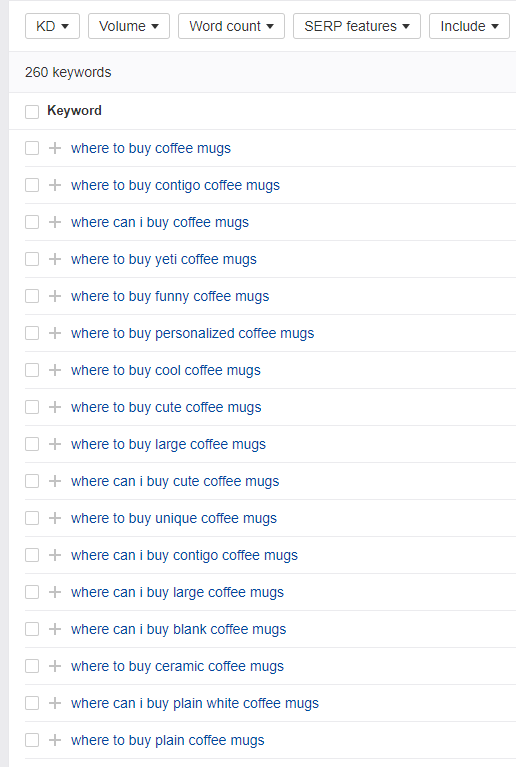 Given the results here, your product pages could address large coffee mugs, cool coffee mugs, unique coffee mugs, ceramic coffee mugs, etc. (if they pertain to your products) – as opposed to simply cramming in as many coffee-mug related keywords as possible.
When it comes to using keywords on e-commerce sites – or any other type of website – the most important thing to keep in mind isn't how many you use, it's how you use them! Each term/phrase should work to provide value to the user first. If you can do this, the SEO value to your e-commerce site will come.
Unoptimized Site Structure
The user experience (UX) of e-commerce sites plays a HUGE role in SEO these days.
One of the key components of UX is site structure/navigation. Poor navigational structure is one of the top reasons why customers report a bad website UX.
To put it in perspective, Google's bots have to navigate a website from top-to-bottom before they can rank it. If the structure isn't optimized properly and makes life difficult for the bots, it's providing a poor user experience. As a result, Google probably isn't going to rank the site very well on the SERPs.
What's the move?
Optimizing the site structure of an e-commerce site is tougher than most – especially ones with massive catalogs. The key is keeping categories, subcategories, and products well-organized.
You will need to organize your internal linking structure and breadcrumbs in a hierarchy. Essentially, the pages of your website need to be connected in a way that allows Google Bots to efficiently crawl your site.
For example, say you sell furniture.
Starting with your homepage, you'll need to establish a hierarchy that flows from your categories to sub-categories to products. Your products should be grouped into specific categories (like kitchen, living room, and bedroom) then sorted even further with subcategories (beds, headboards, dressers, and so on).
This is important for blog content, too. If you have a large blog with articles on multiple topics within your e-commerce site, you will want to fit them into categories that tell crawlers what topics you cover.
At the end of the day, you want to make it as clear to search engines as possible what your site is all about and what it offers. An unorganized structure sends mixed signals as to how they should rank it – which is no bueno.
Not Prioritizing Security
To reiterate, Google takes serious measures to protect users from faulty, unsafe e-commerce websites – as they should!
Think about it: say you searched "buy kitchenware" on Google. If you clicked on one of the top e-commerce sites Google provided on the SERPs, bought something, then had your credit card information stolen, wouldn't you be a little peeved that Google recommended an unsafe online store?
This is why Google takes security into account when they rank websites. Moreover, a study from HubSpot found that as many as 85% of people in the United States won't browse through a website if it's not secure.
This can be the grim reaper for your revenue. As an e-commerce site, you need to take things a step beyond just a simple HTTPS to create a truly secure website – of which isn't at risk of being blacklisted by Google.
Unfun Fact: It's estimated that about 19% of bots crawl websites to find vulnerabilities or to steal data.
Plain and simple, if your online store isn't thoroughly protected against spam and malware, Google's algorithm will assume that ALL your links are spam.
What's the move?
In addition to HTTPS, you need to be sure you're using a trusted, 100% secure e-commerce hosting platform with maximum uptime and RAID data protection. WooCommerce and Magento are great options.
Here are some more things you can do to keep your e-commerce site's security top-notch:
Make it a habit to run site vulnerability tests
Keep the site updated
Use encrypted credit card processing
Ensure the site is PCI DSS compliant
Use a CDN
Perform regular data backups
Avoid storing sensitive customer data
Shoddy Link Building
Link building is a staple in SEO. According to Moz, the number of quality inbound links to a specific page had an influence on its ranking position. Pages with higher numbers of links tended to rank higher on the SERPs, especially when the linking sites had high DA (domain authority) or PA (page authority).
Link building is a huge SEO tactic that many e-commerce marketers fail to take full advantage of. But why?
Natural link building for an e-commerce website is tricky. Due to this reality, many try to cut corners with shady link schemes – or forgo it altogether. Both of which aren't doing any favors.
Simply put – building up a strong profile of good inbound links takes a lot of strategy, content creation effort, and time. There are no shortcuts.
Additionally, link building for e-commerce sites is a bit different than other websites. Placing links to product or category pages on external sites is usually a tough sell – as it oftentimes looks spammy or overly promotional. But it's not impossible!
What's the move?
For starters, if you want to build direct links to your product pages, you need to make them really, really good.
A big trend we're seeing in e-commerce is the rising presence of video on product pages. Adding video explainers, walk-throughs, size comparisons, etc. is a fantastic way to add value to the page.
Now, simply adding video content to your product pages isn't a guarantee that site owners will link to it; but it will certainly help!
Generally speaking, video has been taking on a huge role in digital marketing over the past few years – including e-commerce. In 2020 and beyond, this trend will certainly continue.
Second, we see a lot of e-commerce sites build affiliate links to their product pages on sites like Buzzfeed and Bustle. You can see an example here of how Zenni did this with one of their product pages, as well as a review of their product featured on Buzzfeed.
While this is a fantastic approach for exposure, it's not going to do a ton for you from an SEO standpoint – as these links are generally no-followed. The good news is Google is starting to take no-follow links into account as of March 2020.
While we don't know the full extent of this yet, building no-follow links is something to keep on the SEO radar moving forward!
Third, in the name of getting good, do-follow links, one of the most tried-and-true tactics for natural link building is to create a bank of informational content on your own e-commerce website – blog posts, guides, research, etc.
Google loves to see that you are a true expert in the industry you sell products in – and building an informational resource center on your website is one of the best ways to showcase this.
Additionally, most website owners are more likely to link to these types of informational content over product or category pages.
Start by looking into industry blogs that have an audience similar to your target customers. Ask the webmaster if they would be interested in accepting a relevant guest post. If they agree, you can include a link to one of your on-site informational posts within the content, then get a link to your homepage in the author bio.
This is a foundational link building strategy that marketers have been using for years.
But what about the product/category pages?
Believe it or not, you can still benefit your product/category pages with this tactic – just not directly. In a recent podcast we did with Brian Dean, founder of Backlinko, he recommended creating an on-site piece of informational content – like an industry report – and include links to your product/category pages within it.
To give you an example, say you sell video cards. Write a blog post on your website talking about the best video cards of the year. You can link your product or category pages within it.
As you do your guest posting, you can build links to this post to give your product/category pages credibility. Obviously, they won't get as much search engine love as they would with a direct link, but it's better than nothing – and the process of building links to the informational post will be much easier.
Link building for e-commerce is a grind – there's no way around it. If you don't have the resources to get into the thick of a strategy (or outsource it), start with baby steps. It's better to do little bits of good, natural link building at a time – rather than resort to shoddy practices.
Ignoring Schema Markup
Let's go back to basics here. The best way to put yourself in a position to rank highly on the SERPs is to give Google lots of information to understand the purpose of your site – and the content it provides.
Enter Schema markup.
Schema markup helps the search bots find all of the information they need and helps them locate certain site data instantly. One study even found that sites using schema markup ranked four positions higher than comparable sites without it.
For e-commerce sites, Schema markup should showcase the details that are most important to customers – such as product information, reviews, contact data, or information on aspects of your business, like your return policy.
Most importantly, there should be good, comprehensive Schema markup for your products.
This needs to be implemented on individual product pages – not categories or lists of products.
Here is an outline of what Schema markup looks like on a single product page.
Line 1: Shows Google that the page is a product listing.
Line 2: Shows Google the brand name of the product.
Line 3: Shows Google the name of the product.
Line 4: Shows Google the image associated with the product.
Line 5-8: This is the product description.
Line 9: Shows Google the manufacturer number.
Line 10-13: Shows Google the average review rating (use plugins like WP Customer Reviews or Shopify product reviews).
Line 15: Shows Google if there is an offer on the product.
Line 17: Shows Google the currency.
Line 18: Shows Google the price of your product to display on the SERPs.
Line 19-20: Shows Google how long the price will be valid.
Line 21 – 23: Shows Google who the seller is.
Line 24 -25: Shows Google what condition the product is in.
Line 26: Shows Google the product's availability.
What's the move?
Ok, so at first mention (and maybe at first glance at the screenshot above), you might be thinking that Schema markup is super technical and requires lots of coding. This is likely the reason why many e-commerce sites don't account for it.
While this is true to a degree, adding Schema markup is pretty easy to do these days – thanks to Schema.org – which was created as a collaborative effort from Google, Microsoft, Yahoo, and Yandex.
Additionally, you can use Google's Structured Data Markup Helper tool to get the ball rolling!
Pro tip: If you are going to prioritize any aspect of Schema markup on product pages, we would whole-heartedly recommend the review data.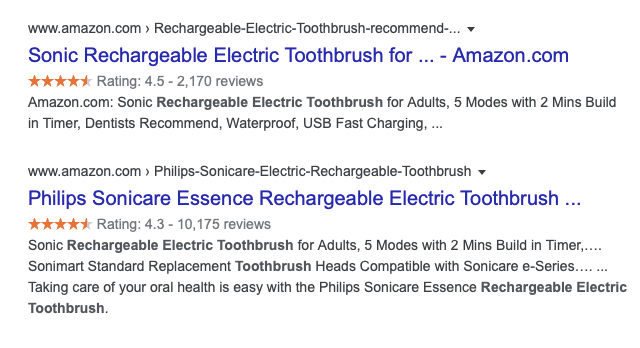 Studies have found that product links with reviews on Google have a 270% higher conversion rate, so you definitely want your star ratings to pop up on the SERPs!
Schema markup is a huge aspect of e-commerce SEO. If you aren't using it properly – you are essentially leaving money on the table.
Conclusion
E-commerce SEO is a complicated puzzle. Depending on the site, there can be a lot more variables and challenges – as opposed to a regular site. Truth be told, it's often the small (seemingly mundane) details that end up doing the bulk of the SEO harm.
To bring it all together, there are five major boxes to check off in analyzing the SEO of your e-commerce site.
Am I using keywords properly?
Am I making it easy for users and search bots to navigate my site?
Is my website fully secure?
Am I building good, relevant links?
Do my product pages have proper Schema markup?
If you can avoid the big mistakes surrounding these components, you're well on your way to getting your e-commerce site the search engine love it deserves!
PS:
Get blog updates straight to your inbox!