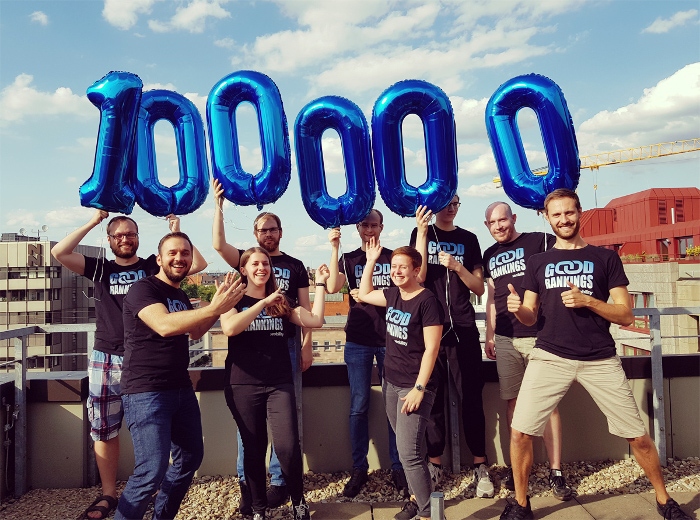 It's time to celebrate – Seobility reached 100,000 users! We are incredibly happy that so many people trust Seobility and we would like to thank you all with this blog post. For this special reason, we will have a closer look at the abstract number "100,000", because each user ID is a unique story.
In addition, you will have the chance to win incredible prizes worth $10,000 at the end of this article, so keep reading!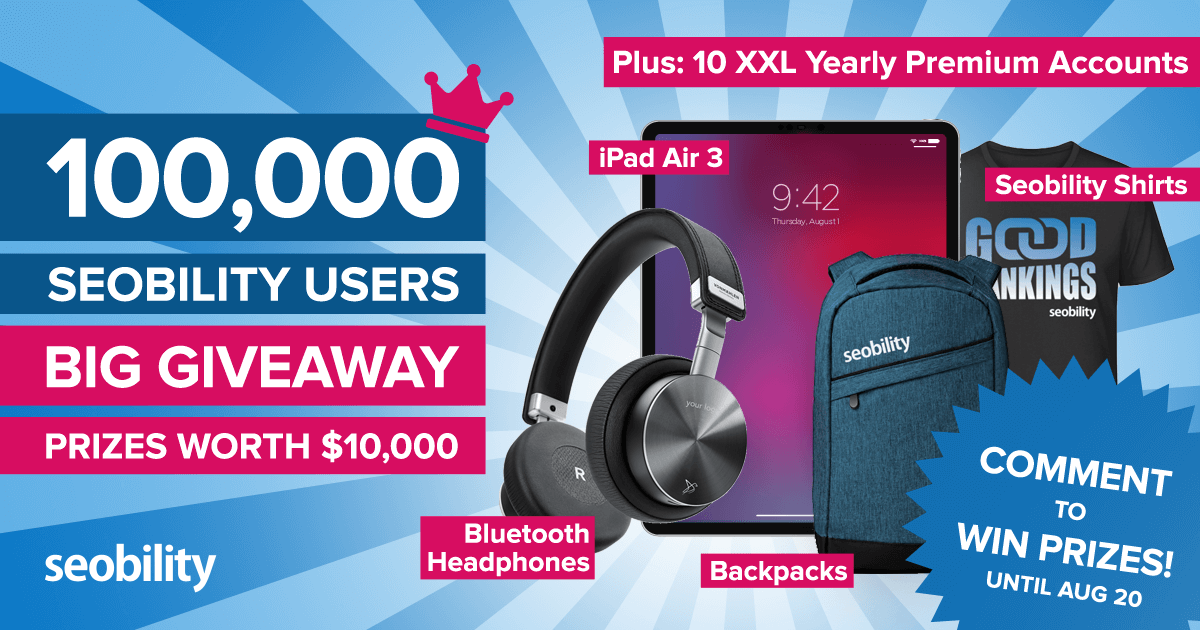 Seobility: How it all started
Before we dive into your personal stories, let us look back to the early days of Seobility. Everything started with releasing an SEO checker which became popular really fast and still is today. Therefore, we decided to expand it and build an on-site crawler which can analyze not only individual pages but entire websites. We continued to extend Seobility, taking our customers' needs into account and added modules for ranking and backlink monitoring as well as a TF*IDF tool. Today, we are proud to offer an All-in-One SEO Software that is used and appreciated by more than 100,000 people by now.
However, this success does not only come from providing a valuable software but also from doing SEO, just like you do. Yet, the fact that SEO pays off is not only proven by our 100,000 customers, but also by the multitude of their own success stories.
David from Inflatable Event Professionals
Let's start with a story that will make all of us feel nostalgic about our childhood.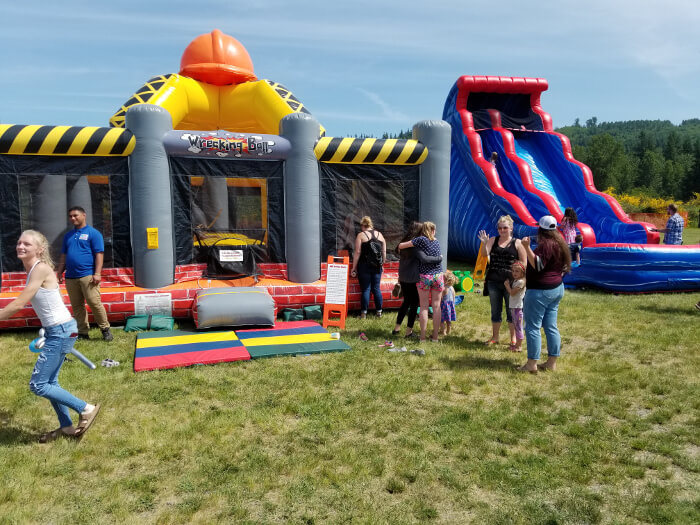 © Inflatable Event Professionals
Inflatable Event Professionals is a professional bounce house & party rental company. They offer a large selection of inflatable bounce houses, water slides, obstacle courses, interactive games and carnival-style games for rent. David got into this business 6 years ago.
Since David started using Seobility he managed to increase his on-page SEO score by 21%.
David, we are so happy that we could help you grow your business! We wish you all the best for the future.
Julian from Van Marle Chauffeurs
If you're ever in London and in need of a chauffeur, you should call Van Marle, a team of friendly professional chauffeurs from London.
Van Marle Chauffeurs provide their services in London and across the UK and have more than twenty years of experience. Their portfolio includes corporate chauffeur services, luxury airport transfers, private tours and much more.
Julian (director and head chauffeur) about his work with Seobility:
Thank you for your kind words, Julian! We hope that our tool can support you in optimizing your website for many years to come.
Monica and Dave from Big Gorilla Design
Seobility is not only used by end customers such as David and Julian but also provides important support for agencies such as Big Gorilla Design – a web design & digital marketing agency based in Austin, Texas. They are a team of web and graphic designers, marketers, SEO consultants, photographers, videographers and writers who help different kinds of businesses to grow. After finding a company's personality, they develop creative ideas to help it succeed. Seobility has become an important tool in their daily work:
Dear Dave and Monica, we're very happy that we can assist you with getting the most out of your and your clients' websites. We're looking forward to supporting you for many more years and wish you all the best!
A big thank you to all 100,000 customers
The stories above are only a glimpse of all 100,000 customers that are relying on Seobility for their SEO. Therefore, we also want to say thank you to everyone else who's using Seobility: Thank you for your loyalty and trust! We hope to be able to provide value to you for a long time and we are constantly working to make Seobility even better.
Huge raffle: Win 10 XXL yearly accounts, an iPad and other valuable prizes (worth $10,000!)
To celebrate this special milestone with you, we are giving away prizes worth more than $10,000!!
You have the chance to win:
10 XXL Seobility yearly Premium accounts with 5 projects included!
(worth $960/account)
a powerful Apple iPad Air 3
classy and high-quality Bluetooth headphones of the German company "Vonmählen" in Seobility style, with an individual engraving for the winner (for example, first name or initials)
3 trendy Seobility notebook backpacks
Each winner will get a cool Seobility shirt on top.
This raffle ends on August 20, 2019. The winners will be selected at random afterwards and announced in the comments. All comments on the English, as well as the German Facebook post, will participate.
Terms of participation and legal information
The raffle starts on August 8, 2019, and ends on August 20, 2019, at 12 o'clock.
The raffle is organized by seobility GmbH, Willy-Brandt-Platz 16, 90402 Nuremberg, Germany.
The raffle is not affiliated with Facebook and is in no way sponsored, supported or organized by Facebook.
The following prizes will be raffled:

10 x Seobility yearly Premium account with 5 projects included
1 x Apple iPad Air (10.5 ", Wi-Fi, 64GB) in Space Gray
1 x VONMÄHLEN Wireless Concert One Bluetooth on-ear headphones in black with Seobility logo and individual engraving for the winner
3 x blue backpack with laptop compartment and Seobility logo
15 x T-shirt "Good Rankings"

Participation is via a comment on the Facebook post.
Comments that violate the Facebook guidelines, the German law and/or copyright will be removed without announcement after notice.
Only business people and companies are allowed to participate. Consumers and persons under the age of 18 are not allowed to participate.
Employees of seobility GmbH, as well as relatives of such employees, are excluded as well. Participation with fake identities or with identities of third parties is not allowed.
The winners will be selected randomly at the end of the competition. All comments on the English, as well as the German Facebook post, will participate.
The winners will be announced in a comment on the Facebook post. Each winner must contact Seobility within 10 working days via email or via a private message to the Seobility Facebook page with his address data and the desired clothing size for the T-shirt. If a winner does not reply within this period, his prize will be raffled among all participants again.
We reserve the right to terminate the raffle at any time if it is not possible for technical or legal reasons to guarantee proper execution of the raffle.
All names of the participants are saved in order to select the winners. All data will be deleted after the end of the raffle. Address data are only collected from winners and only used for shipping. The data will not be transmitted to third parties. Participants have legal rights in terms of information, changes, and deletion regarding their personal information. Apart from that, our privacy policy applies, which is available at https://www.seobility.net/en/privacy/.
German law applies. Legal recourse is excluded.
PS:
Get blog updates straight to your inbox!