Faceted Navigation
From Seobility Wiki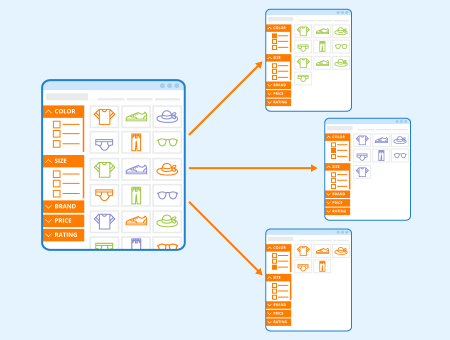 Faceted navigation is a type of navigation commonly found on e-commerce sites that allows for the filtering of search results. For example, faceted navigation may allow you to filter certain prices, colors, sizes, and various other specifications, creating separate facet pages for each combination.
Although this can be extremely beneficial to users when looking for a specific product in a large e-commerce store, it can cause various SEO problems due to the fact that faceted navigation creates a new webpage for each possible filter combination.
Optimizing faceted navigations for search engines is generally considered to be advanced technical SEO.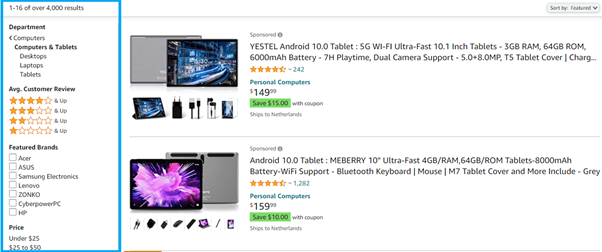 An example of faceted navigation on amazon.com
Faceted navigation is used on large websites where users are set to benefit from being able to apply different filters/facets to a search or category. This could apply to large news publications, large content sites, or e-commerce websites with a large number of products. Faceted navigation is used to make it easier for users to filter a large range of options to find what they are looking for, so is generally not used on smaller sites.
Improves the user experience
Can remove friction in the sales funnel
Improves visibility to a wide range of products/content
Creates a large number of webpages with identical content
Creates a large number of empty pages
Optimizing faceted navigation is an advanced part of technical SEO which should be done with care. Since faceted navigation can cause a lot of duplicate content and blank pages, it can be challenging to optimize them without harming a websites search performance.
It is often advised to reduce the index bloat of a website using faceted navigation by preventing search engines from indexing empty pages and pages that target keywords with low or no search volume. Below are some of the methods used for optimizing faceted navigation on large sites:
Using a PRG pattern
Ajax/Javascript
Using the noindex tag (usually not recommended)
Disallow search engines from crawling in the robots.txt file (usually not recommended)
Relevance to SEO
Faceted navigation can be a great way of improving the user experience on a site, but the large number of pages can cause SEO issues if not optimized properly.
Although faceted navigation is normally limited to large sites like e-commerce sites with a lot of products, it is still an important concept for advanced SEOs to understand.
If optimized correctly, faceted navigation allows you to rank for a large number of long-tail keywords by leaving pages with combinations of facets that are commonly searched, like "bikes under $100" or "black Nike shoes size 12," indexable and thus allowing them to be visible in search.
Balancing your crawl budget and the value of different keywords is one of the main challenges that comes with faceted navigation, which leads to optimizing it mixing various aspects of SEO, including technical SEO, keyword research and on-page SEO.
Related links
Similar articles
To quote this article, just copy this link:
https://www.seobility.net/en/wiki/Faceted_Navigation