Not provided
From Seobility Wiki
What does "not provided" mean?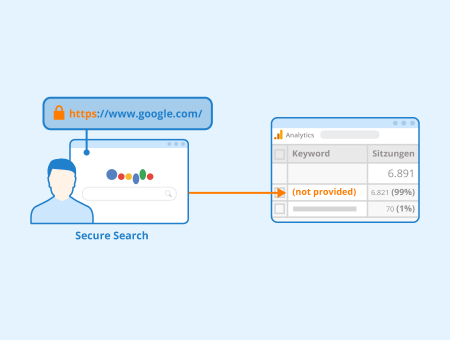 "Not provided" is a term that sometimes appears in keyword tracking systems such as Google Analytics. Among other things, analytics tools are used to generate reports on website traffic and keyword performance data. Usually, analytics reports provide website owners with a list of the top keywords driving most of the site's traffic. "not provided" appears in these reports when the keywords that users type to find a website are not available. In other words, the term describes any organic keyword search that is withheld from analytics reports.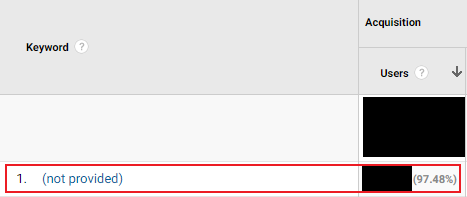 Screenshot with "not provided" of analytics.google.com
The background of "not provided": Secure Search
Prior to 2011, website owners or webmasters had access to analytics data that did not restrict the keywords that generated the highest traffic. "not provided" started to appear in analytics reports after Google limited the access to certain data. One of the main consequences of the changes made by Google in 2011 involved the encryption by default of data like keyword use. From then on, data encryption took place under certain circumstances. For example, "not provided" appears in analytics reports when internet users do a keyword search while being signed into their Google account. This term also appears instead of an actual keyword whenever secure searches using an SSL protocol are involved.
SSL stands for Secure Socket Layer. It was created to provide internet users with a more private browsing experience. The SSL protocol encrypts data generated while browsing the internet so that third parties do not have access to private information like login data, search queries (including keywords), and search results. Having this encryption in place is especially important when browsing from an unsecured internet connection.
Having said that, and although Google introduced secure search protocols to enhance user privacy, keywords still appear in paid searches. This means that it is still possible to access this type of information in the Search Terms report of tools like Google AdWords.
The problem with "not provided" for SEO
When the changes that led to the appearance of "not provided" were first implemented, Google claimed that it would only affect a small percentage of keyword data. This figure was estimated at around 10%. However, some website owners report that anything between 50% and 90% of their keyword data now is obscured and appears as "not provided".
Nowadays, "not provided" is the rule in keyword analytics reports instead of being the exception, which has a significant impact on SEO. This impact is most obvious for anyone who is no Google Adwords partner or an advertiser. In the past, website owners could use keyword search data to optimize their online marketing campaigns. However, with the appearance of "not provided", it becomes increasingly difficult to implement targeted SEO, given that crucial information is missing.
As a result, SEOs are limited in their ability to accurately trace the link between search keywords and metrics like pageviews and dwell time. Similarly, "not provided" interferes with any strategy that involves individual keyword optimization. In turn, this makes it very hard to quantify the ROI of the keywords used to get a website to rank in organic searches.
Alternative sources of information for SEOs
One alternative is the Google Search Console, where Google offers a variety of data about a website. In addition to pageviews, this includes the click-through rate, the average position in the search results for each query, the top 1,000 search queries per day, and the top 1,000 target pages for the last 30 days. SEOs can compare this data with the previous 30-day period and export it to a CSV file. The amount of information is often sufficient for most small to medium-sized B2B sites.
Additionally, Google continues to pass referrer data to customers, which allows you to use Pay-per-Click (PPC) data to optimize keywords for Google Ads campaigns. To get the best possible data, your Google Analytics account must be linked to your Google Ads account.
Once linked, the keyword report can be opened in Google Analytics by clicking Acquisition > Google Ads. It shows all important keywords with data on clicks, costs, and CPC for each search term. Next, the keyword report can be displayed in Google Ads by clicking on All Campaigns > Keywords > Search Terms. Instead of showing the keywords, the report will list the actual search terms users entered when the ads were displayed. This data can provide some important information about what the target audience is really looking for, and thus also help with organic search engine optimization.
Related links
Similar articles
To quote this article, just copy this link:
https://www.seobility.net/en/wiki/Not_provided