Schema.org
From Seobility Wiki
What is Schema.org?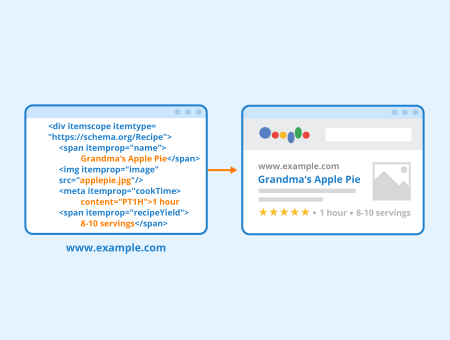 Schema.org is a collaboration between Google, Microsoft, Yahoo, and Yandex that has developed a form of microdata that, when added to a webpage, helps search engines better understand what's on a page and improve the way it is portrayed in the SERPs.
The Schema.org initiative was first launched in 2011 with a goal to create and maintain a set of schemas that could be used consistently throughout the web. Schema.org is an important part of semantic search, which works to improve the readability of the World Wide Web by machines.
What is Schema.org used for?
Schema.org was founded to create a universal markup to help search engines improve their understanding of different terms. For example, terms with multiple meanings can easily be discovered by search engines using schema. It can also be used for understanding other things, including, among others:
Events
Products
Recipes
People
Reviews
Jobs
Places
etc
By creating a universal markup there is more consistency in how the markup is used, making it easier for machines to use the data provided. . As search engines better understand the meaning of terms through the use of microdata and natural language processing (NLP), they can provide search results that are more relevant to users.
Schema markup is also used by search engines to improve the way information is portrayed in the SERPs in the form of rich snippets. This allows searchers to see more information directly on a search results page, for example, by showing information on the user-rating of a page, the number of reviews, the publication date, etc. This data is also used in Google's Knowledge Graph which has become an important part of search.
Their relationship to rich snippets & the knowledge panel
Since Google's Knowledge Graph uses Schema, schema markup can help your brand become a part of the Google Knowledge Graph. This makes it possible to appear in the knowledge panel in Google search results. The Google knowledge panel increases your exposure in relevant related search results and has various branding benefits, including more visibility on branded SERPs.
Schema is also used by search engines to create rich snippets, which allow for more information to be provided in the search results. Reviews, recipes, people, and events, among others, are all types of rich results that can be displayed by search engines.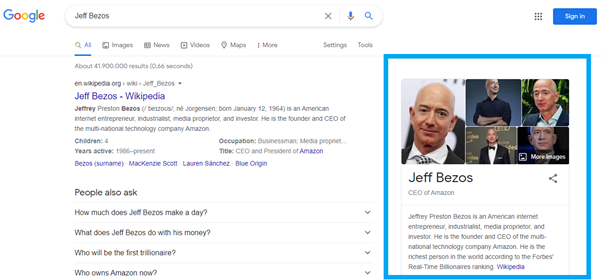 An example of the Google Knowledge Panel on Google.com, highlighted in blue
Its relevance to SEO
Schema markup isn't a direct ranking factor[1] but it can still help your SEO performance in various ways. By providing more information on the content of your pages, webmasters can help search engines understand the content and context of a page. This can make it easier to target specific keywords and helps prevent your pages from ranking for the wrong keywords.
Another advantage that schema markup offers is that it makes it possible to get rich snippets. Since these search results stand out more, it can increase the click-through rate of your search results and increase the amount of search traffic your page gets.
Even though adding schema markup to your pages isn't usually part of the initial optimization of your site, it can provide great benefits to larger sites or websites that are already optimized on a basic level.
References
↑ Google: Structured Data Doesn't Give You A Ranking Boost But Can Help Rankings Search Engine Roundtable. Retrieved 15 February 2021.
Related links
Similar articles
To quote this article, just copy this link:
https://www.seobility.net/en/wiki/Schema.org