Customer Touchpoints
From Seobility Wiki
Definition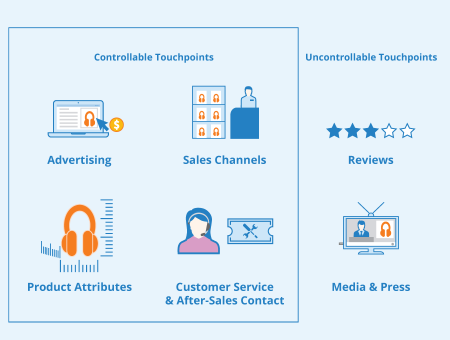 Customer touchpoints refer to any instance where a customer (or a potential customer) interacts with a business. This includes marketing efforts, the purchasing process, and the after-sales service. A business needs to identify all its touchpoints and optimize them to provide a pleasant customer experience.
Controllable and non-controllable touchpoints
While most touchpoints are within a brand's control, some are considered uncontrollable touchpoints.
Controllable touchpoints
The parts of the customer journey that can be influenced directly by a business include:
Advertising
In most cases, this is the initial point of contact between a business and its potential clients. Advertisements and other marketing efforts need to be crafted with the target market in mind. A business needs to ensure that its advertisements not only engage customers, but they are also coherent with the brand image and perception. Careful research needs to be focused on the marketing channels that will reach the market segment(s) being targeted by a business.
Sales channels
As with advertising, careful market research needs to be done to understand the sales channels that potential clients will best respond to. A business needs to determine whether they will be selling their products online, in-store, or a combination of both. Sales channels need to be customized to the customers' needs and preferences to make their experience as convenient as possible.
Product attributes
This is a broad touchpoint that includes all elements of product design from its aesthetics to the functionality features it offers. Basically, your product needs to meet your clients' needs and preferences. Having a creative design team and adequate market research will go a long way towards ensuring that your products are received well in the market on a consistent basis. Product quality and durability also go a long way towards improving the quality of the customer's journey with your brand.
Store design
This is one of the more important touchpoints to focus on as it comes into play during the actual purchasing moment. Across all sales points – whether online or in a physical location – the customer experience needs to be pleasant and convenient. Getting this touchpoint right ensures that you cultivate loyalty within your customer base. Emphasis needs to be placed on designing the perfect store based on your customers' needs.
Customer service and after-sales contact
You need to create an effective communications infrastructure for your clients to get in touch with you. Find out the communication channels most used by your clients. If you mostly deal with businesses, this would be email and phone support. If you are a retailer, social media needs to be an important component of your customer service strategy. Ensure that you have knowledgeable and friendly personnel manning all your communication channels.
Non-controllable touchpoints
There are two main non-controllable channels facing each business, customer reviews and press coverage. While these are outside your brand's control, they can be influenced by some of the controllable aspects of the customer journey. Creating a pleasant customer experience and providing quality products/services ensures positive reviews and press coverage. Monitoring these touchpoints provides vital market feedback which can be used in formulating future strategy decisions.
Touchpoints and the customer journey
The customer journey covers the entirety of a customer's experience with a brand from the first point of contact until they make a purchase. It is best defined by the AIDA formula which maps the journey in four steps: Attention, Interest, Desire, and Action. Each step leads to the next, capturing a potential client's attention leads to them having an interest and desire for your product/service which leads them to acting and making a purchase. Customer touchpoints, both controllable and non-controllable, are involved in all elements of the customer journey.
Touchpoint categorization and analysis
Touchpoints can be categorized into five groups:
Earned: These are touchpoints that are outside the control of a business. A brand gains positive earned coverage by providing a high-quality customer experience, earned touchpoints include reviews and press coverage.
Paid: Paid coverage mostly covers advertising and other marketing efforts paid for by a business.
Owned: These are touchpoints owned and controlled by a business such as store design and customer service.
Managed: These are touchpoints within the control of a business such as brand image and its perception in the market.
Shared: These usually relate to the particular industry a business operates in and are shared with other brands/businesses in the industry.
Since touchpoints relate to the customer journey, they are best analyzed by understanding your customers' experiences. This is done through customer satisfaction surveys, market research, monitoring your feedback channels, and observing your customers as they interact with your business.
Difference between touchpoints and channels
While related, there is a big difference between touchpoints and channels. A touchpoint is a moment where a customer interacts with a business. A channel is a medium through which this interaction happens. Advertising is a touchpoint, while radio (if that is the medium through which you advertise) is a channel.
Related links
Similar articles
To quote this article, just copy this link:
https://www.seobility.net/en/wiki/Customer_Touchpoints