Meta Description
From Seobility Wiki
Definition
A meta description is an element in the HTML code of a web page that provides a brief description of the content of that page. Although the visitors of a website cannot see it directly, search engines such as Google use it to display a web page in search results:

Screenshot with meta description of Seobility from google.com
As the meta description is a meta tag, it is specified in the head section of an HTML document as follows:
<head>
  
<meta name="description" content="Test your website with the free SEO check from Seobility and get tips for a better search engine optimization.">

</head>
The element "name" signals to search engines such as Google which element of the HTML code is specified (meta description). The attribute "content" then describes the content of this element, in this case, the exact wording of the meta-description.
By providing a short description of the page content in search results, you can create awareness for your website and encourage users to visit it. Optimizing your meta description thus enables you to advertise your website in search results. For this reason, you should choose your meta descriptions carefully.
Positive effects of good meta descriptions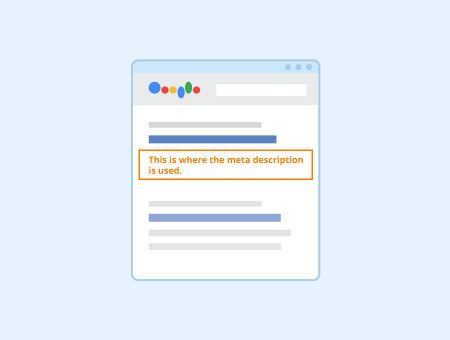 In the early days of search engine optimization (SEO), keywords that were included in the meta description were an important ranking factor for search engines such as Google. However, this led to more and more website owners stuffing their meta descriptions full of keywords ("keyword stuffing"). These meta descriptions provided users with no helpful description of the page content and thus with no added value. Therefore, Google decided in 2009 that meta descriptions should no longer affect the ranking of a website.
Nonetheless, optimizing your meta descriptions is an important task in SEO and online marketing, as it has a significant impact on your page's click-through rate (CTR) in search results. CTR is the ratio between page impressions for certain search queries and actual clicks on this page. With an apt and appealing meta description that encourages users to click, you can increase your CTR significantly, even if your page has a low ranking.
This, in turn, has a positive impact on how Google evaluates your web page. Google considers a page much more relevant if it is frequently clicked and if users spend a lot of time on it. Thus, a good meta description can indirectly improve the ranking of a web page on Google and is therefore also relevant for search engine optimization (SEO).
How to optimize your meta description
In order to improve the click-through rate of your website in SERPs, you should choose your meta description carefully. Most importantly, it has to provide a succinct and comprehensible description of the page content. Even if keywords in your meta description don't impact your rankings and SEO, the most important ones should still be included, as the terms that users search for are highlighted in result snippets on Google. A meta-description that includes the most important keywords can thus generate a high level of attention. However, the keywords should be used in a meaningful sentence and not stuffed into your description incoherently.
In addition, you can increase your CTR if your meta description includes a call to action (buy, read, compare, download, etc.) and thereby encourages users to visit your page. For example, if you have an online shop, it can be effective to arouse the interest of users with the addition "Order now!".
By using special characters such as hearts, hooks, or other symbols you can draw additional attention to your result snippet on Google. But don't use too many of them as otherwise, your company might seem dubious.
Furthermore, you should specify a meta description for every single page of your website. By providing accurate and content-related descriptions, you can make clear to users why your web pages are relevant to their specific problems. However, if it's too time-consuming to create a good and unique description for each subpage, it's better not to specify a meta description at all. In this case, Google mostly uses a text excerpt of your page as a description, which contains the users' search terms. This draws more attention to your result snippet than repetitive default text.
Regarding the length of your meta description, you should note that Google displays approximately 1000 pixels of it in search result snippets. That corresponds to a maximum of 160 characters. If you exceed this number, the text will be truncated by "(...)" and users won't get complete information about the content of your page. In addition, you should place special importance on the first words of your descriptions, since there is even less space for displaying them on smartphones. With the Seobility SERP Snippet Generator, you can easily check if your meta description will be truncated in search results:
Meta Description Checker
Check how your meta description is displayed in search results
In the following, we have summarized the most important points to consider when optimizing your meta descriptions for SEO and online marketing:
Provide a concise and understandable description of the page content.
Integrate the main keywords into a meaningful sentence.
Include a call-to-action.
Use special characters, if necessary.
Create a unique meta description for each page.
Don't exceed a length of 160 characters.
Examples of good and bad meta descriptions for SEO
Here you can see an example of a good meta description:

Screenshot with Microsoft result snippet from google.com
This meta description has an appropriate length and, in addition, communicates the content of the page in a succinct and comprehensible way. It also makes users curious about the page and thus motivates them to click on this result on Google.
Meta descriptions like the following should be avoided:

Screenshot with Amazon result snippet from google.com
This meta description is rather irritating for users and offers neither information nor other added value.
In summary: Meta description FAQs
What is the meta description?
The meta description of a web page is shown in the SERP of search engines and contains an overview of a page's content.
What should a meta description look like?
A good meta description is unique, tells users exactly what a page is about and, ideally, contains a call to action.
Are meta descriptions important?
Yes. Meta descriptions can positively impact your page's click-through rate, which can indirectly improve your rankings.
Are meta descriptions a ranking factor?
No, meta descriptions are no direct ranking factor for search engines. They can still have an indirect impact on your rankings though.
Related links
Similar articles
To quote this article, just copy this link:
https://www.seobility.net/en/wiki/Meta_Description