Video SEO
From Seobility Wiki
Video SEO – Definition & Explanation
Video SEO is the process of optimizing your video content to rank higher in the SERPs. Video SEO can be focused on either vertical search or universal search, depending on which search engine the content is being optimized for.
With the increasing popularity of video content, video SEO has become an important part of SEO over the past few years.
Video and universal search
Universal search is used to describe the inclusion of results from other search engines within a search engine's main SERPs. For Google, this includes various Google OneBox results, like the Google Images Onebox, Google Maps, Google Shopping, and Google Videos.
Universal search was introduced in 2011 and helped provide searchers with more dynamic SERPs that included more relevant information. As videos were also shown in the main Google search engine, this increased the emphasis on video SEO.
Today, a large number of Google search results include videos, making it an important traffic source for video content.
Vertical search
Along with optimizing video content to rank in major web search engines like Google and Bing, video SEO targeting vertical search engines that focus on video content also grew in importance. Video search engines like Vimeo and YouTube allow users to search exclusively for video content.
SEO targeting these vertical search engines is also a part of video SEO, although usually categorized based on their platform in order to create a distinction between video SEO for web search engines like Google, and vertical search engines like YouTube.
YouTube video SEO vs Google video SEO
Although both YouTube and Google are owned by the same company, both platforms use different ranking algorithms to order SERPs. This means that video SEO targeting the main Google search engine will differ from video SEO targeting YouTube SERPs.
The main distinction is that YouTube's algorithm seems to incorporate more factors traditionally used in social media algorithms, whereas video content seems to rank in Google following the same ranking factors as standard Google search. The exact algorithms are not disclosed by either platform, although certain factors have been confirmed.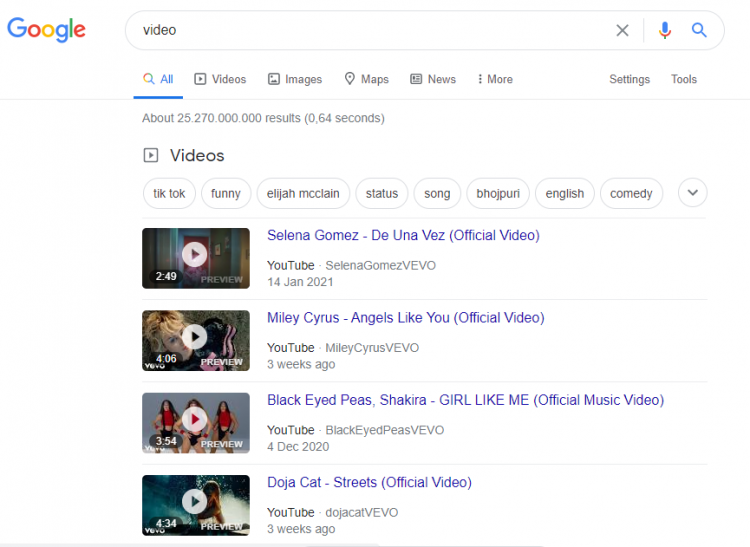 An image of videos displayed on the normal Google SERPs
Importance for SEO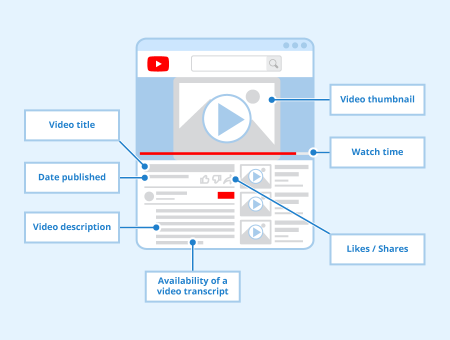 Video SEO is an important part of SEO, that has grown in importance over the past few years due to an increasing focus on video content. Optimizing video content for major web search engines like Google and Bing encompasses many of the same strategies as optimizing normal webpages, including on-page SEO and off-page SEO.
That being said, there are a few things that require extra focus when optimizing videos. Some of these are:
The video title
The video description
The thumbnail
The keywords that are targeted
Including a video transcript
Related links
Similar articles
To quote this article, just copy this link:
https://www.seobility.net/en/wiki/Video_SEO