Google Search Console
From Seobility Wiki
What is Google Search Console?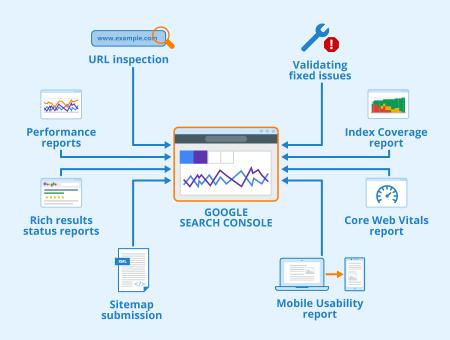 Google Search Console is an online service by Google, primarily created to allow webmasters to manage indexing-related activities and to give them access to key website data analytics. The service is available at https://search.google.com/search-console and is free of charge.
Some of the activities that can be carried out using Google Search Console include website submission, crawling requests, performance monitoring, validating fixed issues, and uploading XML sitemaps. Google Search Console users can also receive automated notifications via email about performance issues that require their attention.
This service was initially called Google Webmaster Tools. Subsequent versions expanded their target audience beyond webmasters, and now this online tool is widely used by digital marketers, web developers, and SEO experts.
Setting up the Search Console
Using the search console requires having a Google account. Once signed in to the site, you will need to add a new property, which refers to the website you want to monitor using this service. This can be done either by typing in the domain name or using the URL prefix. It is also possible to add Google-hosted properties, such as Google Sites or Blogger web pages.
After adding a new property, Google will send a verification request, which can be confirmed using various methods like html tags, html file upload, DNS records, tracking codes, container snippets, etc. After confirming ownership, the Search Console will start gathering data on the site submitted and will track all pages linked to that domain, although reports can take some time to be ready.
Data available in the Search Console
The Search Console offers a variety of at-a-glance website data under 4 main tabs.
URL Inspection
This tool allows you to individually analyze URL addresses within your website. The URL Inspection feature compiles a range of historical data, such as the date in which a URL was indexed and how it was displayed to viewers at the time, and whether it is a mobile-friendly page. The URL Inspection tool also lets you know the latest crawl date for a given URL and whether it is indexed in a user-declared or Google-determined canonical version. Moreover, you can use this tool to submit individual URLs to Google's index.
Performance
The performance tab contains data and reports about the performance of a website in Google's search results. Some of the key metrics available include page clicks, click-through rates, impressions, average keyword rankings, and traffic sources. Moreover, this tab has a dynamic component that helps you understand how your site performs over time, since you can compare values over a given period of time or compare desktop vs mobile performance.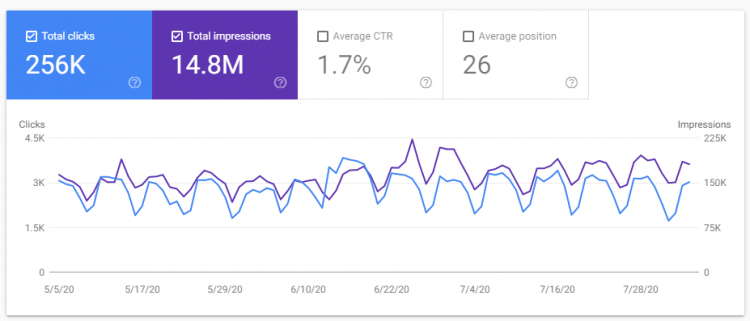 Screenshot showing the GSC performance tab of google.com
Index
Under the Index feature, the console collects information on all pages that have been indexed by Google (i.e. ones that are publicly displayed in search engine results). Submission alone is no guarantee that a site will be indexed, so it is important to track this tab to understand and address any errors that prevent indexing. The Index feature also displays coverage data concerning the results of crawling, sitemap status, and any content removed by Google or at the webmaster's request.
Enhancements
The Enhancement tool provides data on key aspects that can be adjusted to improve your site performance. Among the analytics tracked are so-called core web vitals, as well as:
Site loading speed on both mobile and desktop devices.
Mobile usability (text size, spacing, use of compatible plugins, etc.).
If a website contains certain types of structured data markup (such as breadcrumbs, events markup, FAQ pages or sections, search boxes, company contact details, product data, and how-to articles), the Enhancements section will feature a separate tab with rich results status reports.
Importance of Google Search Console for Search Engine Optimization
The data provided by this Google service yields valuable insights into how to improve your SEO efforts. For example, the console's data on internal and external links pointing to your website (backlinks) is useful for SEO purposes. The number of backlinks is an indicator of page popularity, so it can be used to determine the best and worst performing pages and to create a content strategy. Conversely, pages with few or no links are usually old or out of date, and performing some content pruning on them can make your site more relevant to user searches.
The Enhancements reports can help uncovering issues with structured data markup. Correcting the errors highlighted there can make a page eligible for rich results. This type of data is used by search engines to better understand a site's structure and content for ranking purposes. Google also uses this data to show search engine users meaningful information directly in the search results and to provide a rewarding search experience.
To improve your SEO performance, it is important to act on any errors detected by the console. For example, among other things, indexing problems can be due to low-quality or duplicate content. Similarly, the Manual Actions section contains data on penalties that could affect your website performance, such as security issues, content marked as spam, or violations of Google's quality guidelines.
Related links
Similar articles
To quote this article, just copy this link:
https://www.seobility.net/en/wiki/Google_Search_Console